We last saw the Mighty Duo bumbling through a blizzard on course to the UK to- well, to complete a mission so top secret that even the Kid doesn't know what it is!
When Zachery the Kosmic Kid reached the harbour, Super Secret Jack Spinner had already rented a boat…
"We can't sail anywhere in that!"
Jack stood proudly at the helm of a small, old, tired-looking motorboat. On the side was painted Mary Sue.
"Nonsense," he replied, "This is just the thing!"
Climbing into the boat, Zach stepped in something sticky.
"Careful, she needed a little repair job. A tiny hole can't stop us!"
Zach sighed. He was pretty sure he'd stood in a big, sticky lump of chewing-gum.
He closed his eyes as Jack started the engine. After splutters, hiccups and a suspicious burning smell… they were off!
Jack Spinner sang sea shanties all the way across the water. Zachery looked on disbelievingly. It was working! They were sailing! And quickly, too.
When Jack shouted, "Land ahoy!" Zach felt overjoyed. And then he felt… something else.
Icy cold water. Soaking through his shoes.
The chewing gum was gone. The hole in the Mary Sue was rapidly letting in water!
Zach rowed while Jack tried, unsuccessfully, to bail out water with his hands.
"I CAN'T SWIM!" Jack Spinner screamed, splashing around. Freezing water flew into Zach's eyes, "Save yourself, Kosmic! There's no hope for me!"
When Jack finished screaming, Zachery said, gently,
"We're ten feet from shore. You can walk in from here."
When they climbed ashore, they were wet and they were cold, but they were safe.
"We're here!" Jack exclaimed, spotting a nearby signpost, "We're…"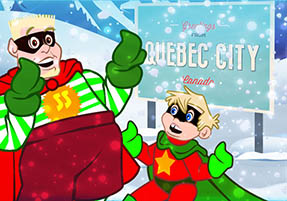 Bienvenue au Québec!
"Québec?!" cried Jack, "We're still in Canada?! We're supposed to be looking for Santa's lost glove in the UK!"
"Of course we are!" the Kid cried, "You can't drive there or take a beat-up boat all the way across the ocean. We need to catch a flight if we're going to make it on time."
Ignoring Zach, Jack's eyes fell on a noticeboard. He exclaimed, "I know… we'll fly!"
He pointed to the sign that had inspired him: Skyward bound! BILL'S BRILLIANT HOT AIR BALLOONS!
Will the Mighty Duo go up, up and away to the beautiful UK? Will they find Santa's missing glove?
Use your Super Secret Decoder Wheel for a sneaky peek or log on next week to find out!
Same Super Secret Time! Same Super Secret Place!
Super Secret Decoder Key: A=D
Super Secret Decoder Code: QR EDOORRQ ULGH