Hi kids, or should I say "arigato"? That means "Thank You Very Much" in Japanese. Arigato for joining me at the North Pole Times.
This weeks Franny Friday is coming from Japan, which is a group of islands on the east side of Asia. We're going talk about how Japanese kids celebrate Christmas.
Did you know that Japan is one of the first places where the sun rises in the morning? So that means Santa delivers presents here before almost anywhere else in the world! While other kids in other places are still sleeping, Christmas morning has already begun in Japan.
Christmas in Japan is different from a lot of other places in the world. Grown-ups still go to work on Christmas day and children have to go to school if it's on a weekday. While children look forward to Santa delivering their gifts in the morning, the special thing for grown-ups is to eat out at fancy restaurants.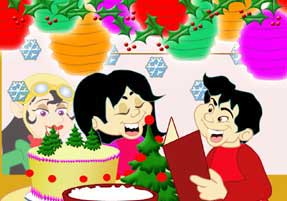 Everyone celebrates on Christmas Eve by eating lots of cake. People don't make the cakes at home, they're made special at Japanese bakeries. Let me tell you, they're delicious. If the bakeries and stores don't sell out of their cakes by Christmas Eve they throw them out, even if they still are fresh and taste good. I guess you're not allowed to have Christmas cake after Christmas.
Most people don't put up trees or ornaments their homes, but stores and businesses in the cities do have a lot of decorations to get people to visit them and shop there. A lot of times in these stores the music and Christmas carols will be sung in English! Most people here know English as well as Japanese.
Christmas trees are decorated with origami cranes and swans; these are very beautiful pieces of paper folded to look like animals and other ornaments. The Japanese also use paper fans, lanterns and small toys as popular Christmas decorations.
Now that I've let Santa know how children and grown-ups in Japan celebrate Christmas he can deliver the right kind of gifts to the Japanese children. Don't forget that everyday the North Pole Times has new stories for you to read, and I'll be back next Friday from somewhere else in the world! Bye 'til then!