Super Secret Jack Spinner the Specialized Sleuth and his Mighty Sidekick Zachery the Kosmic Kid were in the Super Secret Headquarters when the red jingle-phone - the direct line to Santa - began to jingle.
Super Secret wasted no time in picking up. Santa's voice boomed from the receiver: "We've got another Super Secret case for the Mighty Duo!"
"We're on it!" Super Secret cried dramatically, before hanging up the phone.
"So, where are we going?" asked Kosmic Kid.
"Ahhh… No. Yes. Very important. I-" Super Secret was interrupted by the jingle-phone jingling again.
"Shall I tell you the location of the assignment...?" asked Santa merrily.
"Yes, please, I was just telling Kosmic how vital that information was."
Super Secret and Kosmic Kid soon found themselves at the top of the stairs in Santa's house, at the door to Mrs Claus' own workroom. A tearful Mrs Claus appeared.
"Go on, Snowflake. Tell them." Santa said.
"It's my sewing machine. It's… it's stopped working!" Mrs Claus broke down into miserable sobs.
"Oh." Super Secret sounded disappointed, "Doesn't sound too serious to me."
"Not too serious?!" Mrs Claus became angry, "I must make this man a special, made-to-measure suit every year for Christmas Eve! Will it be 'not too serious' he's stuck up a chimney, because it's too baggy? Or if he has a headache, because it's too tight!? He could mix up all the gifts!"
Super Secret blushed as Kosmic Kid said, "Mrs Claus, don't worry. We won't let this jeopardize Christmas. First, let's go into your workroom and look to see if-"
"NO," Super Secret interjected, "No one is to enter Mrs Claus' workroom! I officially declare it a crime scene!"
"We could ask Gizmo to take a-" Kosmic began.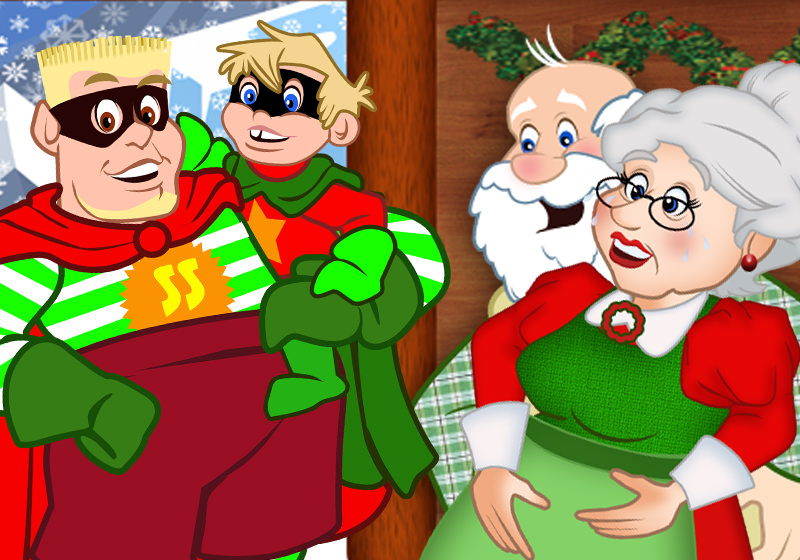 Super Secret wasn't listening. "This sounds like sabotage to me. We'll find the dastardly villain who did this!" He turned dramatically and promptly tumbled down the stairs—KABOOM, BAM, THUNK!—into the kitchen, knocking over a table causing a rolling pin to strike him in the head. BONK! He then leapt to his feet, saying, "OWWW! That's gonna leave a mark! This guy's clever. He's setting booby traps to throw us off the case!"
Kosmic Kid sprung lightly down the stairs after Super Secret. He whispered, "Both your shoelaces are undone."
Is there a Dastardly Villain on the Loose? Will the Mighty Duo find the scoundrel trying to sabotage Christmas? Will Super Secret Jack Spinner be able to stay on his feet? More on this developing story next Sunday. Same Super Secret time! Same Super Secret place!