The wind is whippin' around, and my toboggan is too.
Your 'ole pal Toomer, has a story just for you!
You'll never guess where I stopped for lunch this week.
My super-sensing and totally tubular tobaggan flew me to Tokyo where the owner of the famous Ginza Sushi Aoki restaurant invited me in for some sushi. He wanted to hear all the stories of the cool kids on the nice list!
I told him about my new friend Tadashi. When I first flew into Tokyo, my tobaggan whisked me to a primary school where I saw Tadashi helping his teacher. Not only did he not have to be asked, but he asked how he could help! He passed out papers, sharpened pencils, and made sure all trash was picked up. Cheers to you Tadashi! Your awesome act will go to straight to the big man himself!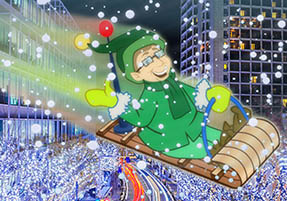 From Tokyo, my magical toboggan flew me to London, England to see the top terrific task for the week! A really remarkable kiddo lended a loving hand!
My new friend, and personal hero Jessica was busy volunteering at a homeless shelter, giving a warm dinner and a warm smile to those in need. We were particularly wowed by such a delightful deed! Jessica really blew the lid off the nice list! You won our second Terriffic Tasker of-the-week award! Keep up the splendid work!
There's just two more terrific Tuesdays left before Christmas and I absolutely cannot wait to see what all you cool Christmas-loving kiddos come up with next!
What's that noise? Can you hear it too?
It sounds like totally tubular toboggan is revving up to soar off to the next spot! I better hop on!
Until next time my fantastic friends!