Welcome class!
I'm Professor Ellie Elf - a teacher at the School of Wonders here at the North Pole. The word 'WONDERS' is such a good one to describe this school.. As well as teaching elves about things that are astonishing and amazing (some of the wonders of the world), hopefully it makes them curious and ask questions (in other words, make them wonder) about this wonderful world we live in!
This week, we've been thinking about the weather at Christmas…
"Not everyone in the world has snow like us," I said. "In fact, not everyone in the world has Christmas in Winter."
They were amazed!
To demonstrate why, I got a round balloon, a map of the world, a lamp and a marker pen. You might like to try this yourself…
First, I blew up the balloon and then very roughly copied the outlines of the main continents onto it - as if it were planet Earth. It wasn't accurate - just a quick sketch.
I then drew a straight line around the center of the balloon. This invisible line on planet Earth is called the 'Equator'. If you stood on the Equator, you'd be exactly halfway between the North Pole (where I am now) and the South Pole.
I then turned the lamp on to represent the Sun.
"Now, did you know," I asked. "That the Earth is slightly tilted?"
It doesn't take much to amaze my elf class, so that absolutely bamboozled them! I tilted the balloon ever so slightly so that the bottom where I tied the balloon was pointing towards the lamp and the top was pointing away from it.
"This is what planet Earth is like at Christmas time," I explained. "What do you notice?"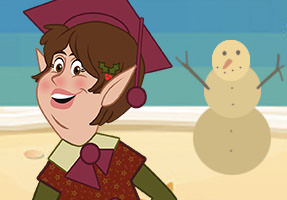 One of my brightest students called out: "The countries in the top half of the world are tilted slightly away from the Sun! And the countries in the bottom half are tilted slightly towards the Sun!"
She was right. Because of the tilt, countries in the top half (the 'Northern hemisphere') experience colder temperatures and Christmas comes in Winter. But countries in the bottom half (the 'Southern hemisphere') experience warmer temperatures and Christmas comes in SUMMER! It's December 25th for everyone, but not the same season!
So, while Santa wraps up nice and warm when he visits countries in the Northern hemisphere, he changes into a lighter outfit when he visits countries in the Southern Hemisphere. Once or twice, he has been known to shave in between too! He said that his beard was making him too hot as he flew through the Australian night.
Try the balloon experience for yourself and think about where you live. Will you be dreaming of a white Christmas? Or is it more likely that you will be sunbathing and having a barbecue outside?
Here at the North Pole, we have a white Christmas and every other day of the year is white too!
See you next week,
Professor Ellie