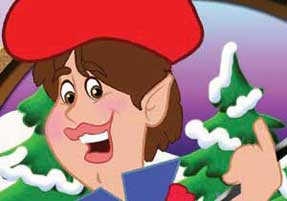 December is such a busy time at the North Pole! Almost every day, elves rush to Santa's workshop to produce enough toys for all the children on Santa's "nice" list. We don't mind the work, though! We want every good kid to get something really special. It's just that with making toys all day and watching the reindeer games during breaks, we elves have hardly any time to think about each other
At Santa's Saturday School of Wonders, we use the month of December to focus on the Christmas spirit. It's important to show the people we love just how special they are to us. Has your teacher ever worked with you to make a card or present for a special grown-up? Well, it's just like that at our school – we get to make presents that show how thankful we are for each other. We get to use class time to make all sorts of presents for other elves.
Since we are toy experts, you might think we get amazing toy creations. We do like toys, but really love anything that shows us someone cares. We make poems and songs for each other, make tools or handy things (like bookmarks for an elf that loves read), and we really love giving and getting yummy things to eat. One time, Waldo Elf – who really loves mustard – made Mrs. Clause a beautiful poem about all of her delicious mustard treats. She loved the present so much that she hung it in her kitchen!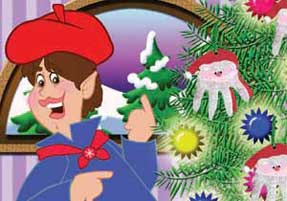 With Christmas still a few weeks away, this is a great time for you to think of presents you can make for the special people in your life. A picture, story, or anything you create and share will make a smile – and that really is a great gift! Below are some instructions for creating a present from your own handprint – to make a one-of-a kind Christmas ornament.
Santa's Hand Ornament
You will need:
A piece of red craft foam (large enough for your hand to fit on it)
A small piece of pink craft foam
Two small wiggle eyes
One-two cotton balls
One white pompom
One small, red pompom
One pipe cleaner
A one-hole paper punch
Craft glue
With a grown-up's help, trace your hand onto the red foam and cut out the hand shape. Tip the hand cut-out upside down (so the fingers point downward). Cut the pink foam into a circle and glue it on the palm of the hand. This will become Santa's face. Glue on the eyes and the red pompom for a nose. Pull apart the cotton balls and glue the some of the pieces onto the fingers to make the beard. Glue some pieces in a line above the face to make the fur on Santa's hat. Glue the white pompom on the end of the thumb. Use the hole punch to make a hole at the top of the head and insert a pipe cleaner through the top to make a hanger. Write your name on the back and wrap it up as a special gift!