In many ways, it was just another December day at the North Pole. Everyone in sight was getting ready for The Big Night--Christmas Eve, when Santa would take his sleigh filled with toys and head out to deliver them to all the children in the world who celebrate Christmas. Elves scurried to and fro. Some had bags of letters to Santa, some had toys to be put into boxes, others had boxes needing to be filled with toys.
Yes, everywhere one looked, there were elves being busy. However, there was a big absence at the North Pole, because Santa was out looking for his two missing reindeer.
"I don't like it when Santa's not here so close to Christmas Eve," said Twinkle Elf, as he went through the latest updates on the Naughty and Nice list. "Why did he have to go out and look for Ajax and Scooby himself?"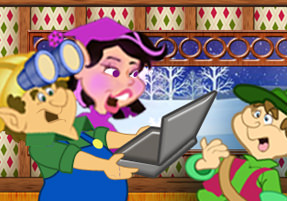 "Because they're his reindeer," said Smitty Elf, who had decided to help Twinkle out this day. "Santa doesn't want us to be worrying about those two poor reindeer..."
"And Waldo," added Twinkle.
"Yes, and Waldo Elf as well." said Smitty. "Santa thinks he knows where they all are, and he says he can get them back quickly. Plus he's got Holly Elf with him, too, and she's got the sharpest eyes of all the Elves. I'm sure they'll be back soon."
Over at Santa's house, Louis Elf was trying to keep Mrs. Claus occupied by showing her some of his latest designs for Santa's outfit.
"I know you say you must have red be ze color for ze suit, but zere are so many deeferent shades of red" said Louis, showing her different pieces of cloth. "And eef you look at zese designs, I can show you how I can make Santa look much sleemer..."
Mrs. Claus smiled sadly and kissed the fashion elf on the cheek. "It's nice of you to try, Louis, but you won't distract me with your fake accent and outlandish designs. I'll just have to keep my chin up and pray that Santa and Holly will be OK."
Just then, Gizmo came bursting in the room, with his own personal laptop in his hands. "We've got our first email from Santa!" he cried.
What's going on with Santa? Has he found the reindeer? Keep reading The North Pole Times to find out!