The Reindeer Games are like no other competition, as the competitors are special. Very special. Santa's Reindeer have abilities like no other – they can run fast and jump high and move with the utmost grace and precision. And, yes, when the Big Night comes, they will be able to fly.
But those special abilities don't flourish without some hard work and effort. Far from taking it easy outside of the Christmas season, Vixen, Cupid, Dasher, Donder, Dancer, Comet, Prancer and Blitzen practice their skills, stay in good shape and eat well.
And to make certain they are ready for the Big Night, they also compete in the Reindeer Games in front of their many fans at the North Pole.
The opening event for this year's games is the High Jump. The reindeer each will attempt to jump over the Big Bar, which will be raised higher and higher until only one Reindeer can make the jump. And that will be our winner. Set up by Santa's many elves, the Bar is now 20 MILES high.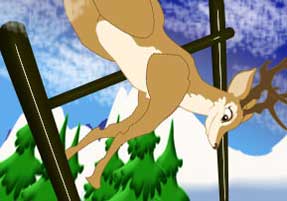 Well, this year's High Jump got off to a great start. Each Reindeer made a spirited attempt to leap over the bar at 20 miles, and each made it! So the Bar was raised to 21 miles. And then 22 miles. And 23 miles! At each height, all of Santa's Eight made successful leaps. The sold-out crowd at Santa's Workshop Arena cheered wildly for the superb performances, although the elves were getting tired having to raise the bar so many times.
Finally on the fifth round, at 24 miles, Dasher, Donder and Dancer each nicked the Bar and couldn't make it over. Meanwhile Vixen, Cupid, Comet, Prancer and Blitzen were successful, and so the competition moved to 25 miles!
But the Official Elves decided night was coming on, and so the competition was called for the day. Vixen, Cupid, Comet, Prancer and Blitzen will continue jumping tomorrow until we have our first Gold Medal winner! Check back to see who will win.