Alright gang, its Toomer Elf again! Do any of you know what rhymes with the word sleigh? "Terrific Task Tuesday!"
This year we're going to do things a bit differently. Santa has a huge globe at his headquarters and let me tell you, we've been spinning that globe for hours! Wherever our fingers will land, whatever our eyes will see, will be the city or country in which I will be! I can't wait to get started on my journey!
This week I was in the beautiful city of Bogotá, Colombia. The sights there are amazing! I saw the Monserrate, The Museo Botero and The Plaza Bolívar Bogotá and…oh wait. I'm getting totally off track here. Let me focus! So sorry, back to what I was saying.
Well, Colombia was the first country that my finger landed on so I'm going to be checking in on a little fella named Joshua. I can't tell you how proud Joshua has made me. I'm sure his mom feels the same way too. I caught him being incredibly helpful.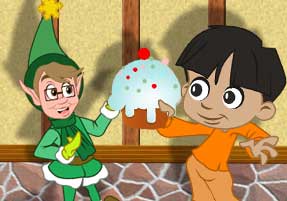 Let me tell you the story. Joshua's mom runs a panaderìa in the city. (Panaderìa means bakery in Spanish.) She's been super busy during this time of the year and is exhausted when she gets off work. Joshua decided to help her around the store by putting dishes in the dishwasher, sweeping the floor, and taking out the trash and clearing off the tables. He did all of these things without his mom having to ask. She was so surprised that she gave him a big cupcake.
Joshua definitely deserves to see a special gift under the tree and I can't wait to let Santa know about his good deed.
Well guys, it's time for me to skedaddle. I'll catch you next week to tell you about more Terrific Tasks, and don't forget…do a terrific task a day!
'Til next Toomer Time,
Toomer