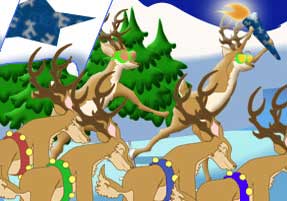 With a large crowd of elves and reindeer and other North Polians in attendance, Santa officially opened the Reindeer Games today at a packed Workshop Arena. Every seat was filled for the rousing ceremony, as Santa welcomed the famed competitors.
Vixen, Cupid, Dasher, Donder, Dancer, Comet, Prancer and Blitzen marched into the Arena to loud cheers from all.
The Great Eight once again will show their stuff in eight difficult events over the next 22 days, hoping to the entertain the locals while getting ready for the Big Night – Christmas Eve – when they will ferry Santa's Sleigh to all parts of the world.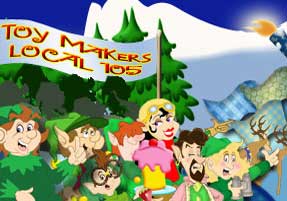 Once again, the Reindeer Games will feature the High Jump, Long Jump, Sprint Race, the Around The World Marathon, Figure Skating, Speed Skating, Obstacle Course and 2222-Mile Marathon.
A slightly disappointed Rudolph will not play in any Reindeer Games, but will be on hand to provide expert commentary, as well as some very bright lighting for the night competitions.
The Games will begin tomorrow with our first event – the High Jump. Check back to see how our Reindeer do in this difficult event.