The North Pole is a busy place year-round--there's toys to invent, machines to tinker, naughty and nice lists to start, and reindeer to feed and exercise. But the Christmas season is, of course, the busiest season of all.
And the North Pole is usually a tidy place. It's the way of elves not to make a mess. They take pride in keeping things neat. Don't you? But, when it gets to be Christmas season, and things start to get really busy, it gets a bit sloppy. Not as sloppy as you might think: a pair of shoes left out here, a plate not washed there--and sometimes, The North Pole goes for days without someone polishing it. The elves notice this, and pick up when they can (you do the same, don't you?), but it's not spotless.
That's okay, though--as soon as Santa heads out on Christmas Eve, and right after the elves have a few cups of hot chocolate and some of Mrs. Claus' famous cookies, they start to clean up.
But this year, with company coming from the south (and remember, when you're at The North Pole, everywhere else is the south), a few of the elves decided that, as busy as they were, they should clean up a bit.
Jiller, Holly, and Twinkle Elf were sweeping the floor of the toy factory, while Waldo, Ali, and Adamup Elf cleaned the windows. Gizmo Elf, Santa's Chief Inventor Elf, was carefully painting over a few scratches on the outside of the Appendapulator, the great toymaking machine of the North Pole. And, since they were elves, of course they talked about the visitor that was to come--the Granddaughter of Ha'penny Elf!
"Does anyone here remember Ha'penny?" asked Twinkle, shyly. "I was just a little baby elf when he went away."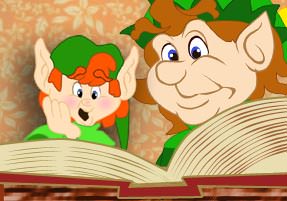 "I remember he was real good with numbers," said Adamup, Santa's Chief Toycounting Elf. "One year, we had a whole bunch of kids--258,755 to be exact--who all wanted a bag of marbles for Christmas. No one was sure if we had made enough marbles or not. Well, Ha'penny took one look at the marble bin, and said that if we put twenty-four marbles in each bag, we'd have one marble left over. He was right, and he gave that marble to me." He reached into his pocket and pulled out a little glass ball. "See? It's an aggie." He put the marble back. "That was the Christmas I decided to start counting toys."
"I was pretty young when he left, too," said Jiller Elf, "but I remember once when I was in bed with elf-fluenza, he stopped by with some soup." Jiller licked her lips thoughtfully. "Cream of broccoli soup. It was delicious."
Sharp-eyed Holly Elf, the Santa Spotter, spoke up next "Ha'penny was the only elf I couldn't find when playing hide-and-seek."
"He was a great dresser, for an Elf," sighed Ali. "Ha'penny could even make a green waistcoat look good."
"He gave me his recipe for Strawberry-and-Mustard pudding," added Waldo.
The other elves looked at each other and shrugged.
"Well, be that as it may," said Gizmo, "He was still an all-around great elf. There wasn't a thing at the North Pole Ha'penny was bad at. Whenever something needed to be done, 'Ha'penny will do,' is what we'd all say. I wonder what his Granddaughter will be like?"
An excellent question, indeed--and one you will only find the answer to by reading the North Pole Times!