Seven events have been completed so far at the Reindeer Games, and we are ready for the eighth and final event, the Cross-Country Ski race! The Cross-Country race will be a fun event for the reindeer, and for our fans here at the North Pole, too, and all our fans following on the North Pole Times.
Cross-Country skiing is a very old sport, and started many years ago as a way to travel over snow for very long distances. This kind of travel started almost 5,000 years ago! The first cross-country skiers were probably from Scandinavia in Northern Europe.
Since then, cross-country skiing has become a fun sport, and a competitive sport, too, for many people. And now it's for the reindeer! Today and tomorrow, the reindeer will ski for the last gold medal of the this year's Games.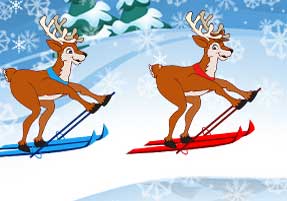 So far in the Games, gold medals have been awarded to Comet in the Speed Skating event, Blitzen for Ski Jumping, Dancer in Figure Skating, Dasher in the first-ever Luge competition, Donder for the High Jump, Prancer in the Around-the-World race, and Vixen for Snowboarding.
And now the Cross-Country race, which will be a good one. Let's head down to our very famous host, Jim McSnowflake Elf at the starting gate. Take it away, Jim!
"Ok, the reindeer are ready for the start of the race. This will be a cross-country ski marathon, and will take the reindeer over a 40-kilometer course (that's about 25 miles). That's a very long race, but the reindeer are ready. They have specially made skis, and have been practicing all year for the race. It will be a good final event."
We're getting close to the Big Night when the reindeer will lead Santa's sleigh all over the world, hoping to bring joy to many children all over the world. And if Santa needs some reindeer to lead the sleigh on skis from time to time, well, they will be ready!
Ok, were ready to go. And they're off! It's going to be a long race, 40 kilometers out from the North Pole and back. Dasher, Dancer, Prancer, Vixen, Comet, Cupid, Donder and Blitzen are all off to a good start, and skiing well. It's going to be a good race. The reindeer will go 20 kilometers today (about 12 miles). And they're off to a good start!
Check back tomorrow for the finish of the race, and the last event of this year's Reindeer Games!