Waldo found the polar bear and woke him. As you remember, Waldo, Mikee, and Gizmo met Yeti somewhere in the icy wilderness. She knew nothing about the new elf girl but gave the elves the first clue. They needed to find the polar bear and be quiet while doing so. Well, that was the problem. Waldo found him, but he wasn't so quiet.
Still sleepy and cross, the polar bear covered his ears with his paws. Poor Waldo was still screaming.
"Aaaaaaah! Please, don't hurt Santa's elf!" Waldo begged.
"Oh, poor Santa; how does he ever get to sleep? What an annoying tiny creature!" the polar bear mumbled and turned to the other side.
Poor Waldo rolled down the polar bear's back into the deep snow.
"Please, Mr. Polar bear," Mikee implored. "We need your help."
"What kind of help?"
Mikee and Gizmo told him the whole story about the great mess at the North Pole.
"Oh, that's why my Thanksgiving turkey wasn't crispy! Even my pudding was a disaster!"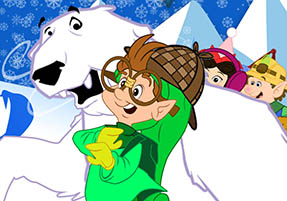 "Pudding?" Waldo peeked out of the snow with wide eyes.
"I've seen no new elf girl nor heard of her. The Snow Fairy might help you; she lives over the hill. Now go away and leave me alone!" the polar bear demanded before falling back asleep.
Mikee and Gizmo pulled poor Waldo out of snow and moved on. They went over the hill, but there was no trace of the Snow Fairy. They kept navigating hill after hill until there were no hills left. Cold and tired, the elves saw nothing but endless snow and vast wilderness all around.
"We're lost?" Mikee suggested.
Yes, the elves were lost with no clue of where to go and no way to get there. They were out in the open with no shelter and no one to help. Who knows what ghastly creatures were lurking in the darkness, ready to pounce. Dangers abound.
What do you think will happen? Will they find the Snow Fairy? Does more danger lie ahead?
Come back TOMORROW to get the latest news ONLY on the North Pole Times!