As Christmas was getting closer, almost everything was ready for the Great North Pole Christmas Party. As you remember, dear readers, Waldo was in charge of the party for his bravery. The only thing he needed was the perfect Christmas tree.
Waldo remembered the beautiful red pine, red like strawberry and mustard pudding, near Yeti's cave.
However, the bullies got the task to find the tree. As Bugzy and his buddies were leaving, Waldo couldn't stay still. He couldn't let them get an ordinary tree, ordinary as they were. Waldo wanted to organize an extraordinary Christmas party for Mikee, with the most extraordinary red tree!
Not hesitating a second, Waldo took his backpack and set off to Yeti's cave.
There's no need to mention, dear readers, that Mikee didn't let him go alone. So, the two of them were back in the wilderness.
Waldo had a plan: they would find the red tree, meet Yeti and her baby, and the four of them would go back together to Santa's village in time for the Great North Pole Christmas Party!
Piece of cake, you might think, but...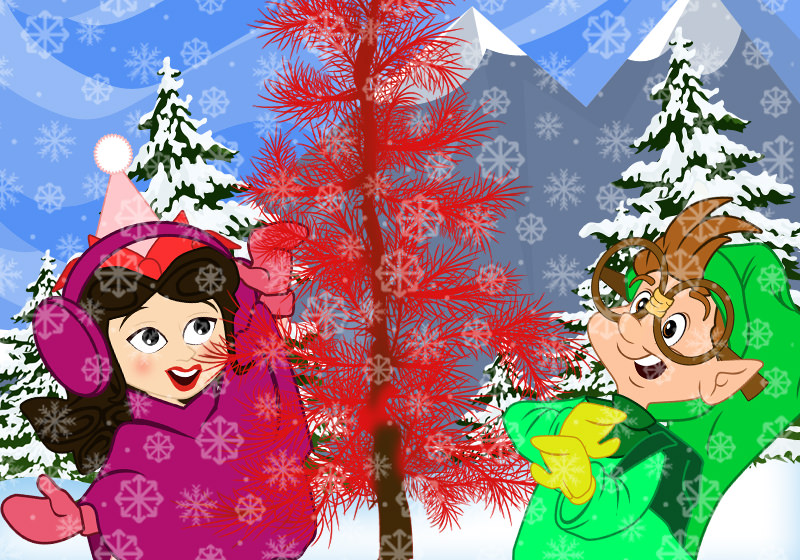 At the start, luck was on Waldo's side. They found the red tree in a blink of an eye! It was an amazing, unique, one and only red pine in the North Pole!
Well, not so fast, dear readers. Things couldn't go smoothly for Waldo.
When they came closer, Waldo's whole world fell apart. The tree was almost dry, which caused the pine needles to turn reddish. Waldo's red Christmas tree wasn't perfect at all… but dying!
What do you think, dear readers? What will Waldo do? Will he give up his red tree and let the bullies win? Read all about it TOMORROW on The North Pole Times!