Mikee was looking desperately at the tinny footsteps in the snow. As you remember, those were the footsteps of poor Waldo, who couldn't stand the bullying anymore. Waldo saw beautiful Mikee at the Thanksgiving dinner, but due to one of the elves, his kind intention ended up with the pumpkin pie on her face!
Mikee was looking at the endless wilderness covered with snow and ice. Searching for Waldo would be like looking for a needle in the haystack. However, Mikee was determined to find Waldo, no matter what.
She couldn't do it alone, she needed somebody, and Mikee knew who she should ask for help. Mikee would ask the only person who could understand how Waldo felt, the person who had been bullied too, the person who wouldn't leave a friend in the lurch.
Yes, it was Rudolph!
There was only one problem; Rudolph was away at the Reindeer Games.
Luckily for Waldo, Mikee wasn't the type of person who'd give up easily. This brave and smart elf had a solution for everything!
Mikee ran to the Communications Center at Santa's Village to call Rudolph via satellite.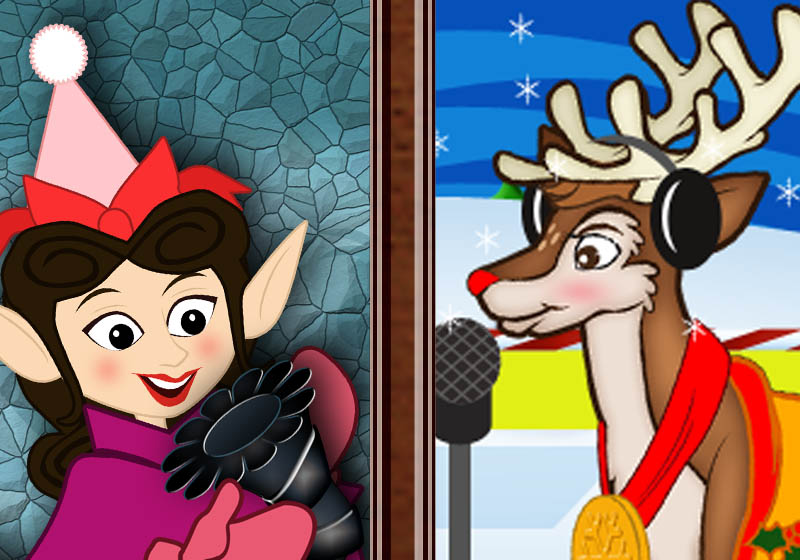 When he heard what happened to Waldo, Rudolph didn't hesitate. As a baby reindeer with a red nose, Rudolph had faced the same situation. He had to help Mikee find Waldo!
Loyal to his friends, as he'd always been, Rudolph couldn't just leave the Reindeer Games. On the other hand, he couldn't let Mikee look for Waldo all by herself.
Rudolph had to find a way not to disappoint his reindeer friends at the Games and to help his elf friend wandering in the wilderness. This was surely a task for the red nose.
What do you think? Will Rudolph find a way to perform this challenging double role? We'll keep you updated on this troubling story EVERY day, right here on the North Pole Times.