Waldo watched the mouse run back and forth.
"What is he up to?" He wondered, having no clue Chris Mouse was making a contra-trap for Toby.
Meanwhile, Chris was bringing various groceries to the kitchen. And when he found all the ingredients, he started mixing, seasoning, and chopping. First, Chris placed two delicious slices of bread on the table. Then, he topped them with a juicy mushroom sauce. And when the bread soaked all the flavors, Chris added a few slices of tomato, lettuce, and smoked ham. As a final touch, he melted the cheese coated with hot peppers and poured it on top.
"Tee-hee-hee," Chris giggled as he placed his trap onto the plate meant for Toby.
All the elves dropped their work tools as the alarm for their lunch break sounded. They all rushed out, eager to fill their bellies, and Toby was among them. He sat at a table in front of a plate with his name on it.
"Yummy!" He gasped when he saw the sandwich topped with melted cheese.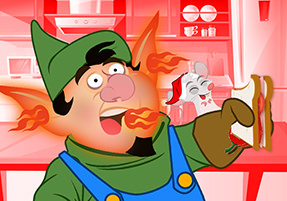 He was so hungry that he swallowed the sandwich in one bite. Suddenly, Toby felt a fire rising up his throat. He began to sweat as his face turned all red. The hot pepper cheese was definitely doing its thing because the elf felt his stomach fill with gas. Toby fidgeted in his chair, squeezing his bum-bums. He was trying so hard not to let the stench out. But all his efforts were in vain. The volcano in his stomach exploded so loudly that he released the smelliest, most unbearable fart ever.
Eww!
All the elves were disgusted as the stench was stuck in their noses. "Who did that?"
"Tee-hee-hee, not me!" Chris grinned and ran into his hole.
Will Toby get his revenge? Find out tomorrow, ONLY on the North Pole Times.
#1 in Santa's News! Trusted Worldwide!