Super Secret Jack Spinner was making a pot of hot cocoa when his super sense started tingling!
"Kosmic Kid! My Super Sense says something's happening! I feel a tingling sensation!"
"Well, your pocket is vibrating," Kosmic Kid pointed out.
"Ha! Exactly! I…knew that," Super Secret replied pulling a kitchen timer out of his pocket. FLOOP! - The timer flew out of his hand and into the hot cocoa. "Why was a kitchen timer buzzing?"
"Maybe because the cocoa is done?" replied Kosmic Kid.
Suddenly the Red Jingle Phone rang! "That's the Jingle Phone! I got it!" shouted Super Secret holding his boot to his ear. "Headquarters!"
"Uh, Super-"
"Not now, Kid! Something is afoot!"
Kosmic Kid shook his head. "The only thing not afoot is that boot!"
"So that's why my foot is cold." Super Secret said looking at the boot in his hand.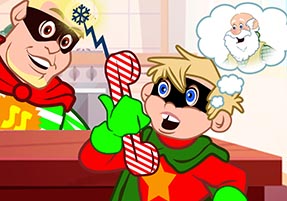 RING! The Jingle Phone rang again. "Yes? Hello, Santa!" Kosmic Kid answered. His eyes opened wide. "We're on it!"
"Wait, don't tell me," Super Secret said, "My super sense says there's a problem!"
"Well, when the Jingle Phone rings there's always a problem. That was Santa saying-"
"Don't tell me," Super Secret interrupted, "I already know! Santa…is missing, right?"
"Well, that was Santa so how could he be missing?"
"Good point."
"Actually, it's the reins!" said Kosmic Kid, trying to stay on track.
"This is the North Pole, Kid. It never rains. It snows!"
"No, the reins for Santa's sleigh are missing!" responded Kosmic Kid.
"Someone stole them. I just know it!" Super Secret screeched. "Off to the scene of the crime - to the stables!"
The Mighty Duo raced out into the deep snow in search of their first clue.
"My foot is freezing!" complained the specialized sleuth.
"Hang up your boot and put it back on your foot then."
When they arrived at the Reindeer Barn where Super Secret was sure the crime took place, they approached the large barn door…
What happened next? Will the Mighty Duo find the thief in time for Christmas? Did the balmy boot get back on the freezing foot?
Stop back next Sunday for more on this developing story.
Same Super Secret time! Same Super Secret place!