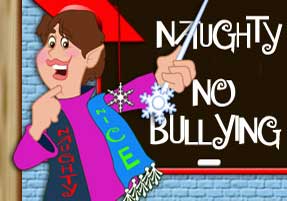 Happy Holidays everyone! I'm Professor Ellie Elf and I'm the teacher at the School of Wonders here at the North Pole.
Today I'm teaching my class the difference between being naughty and nice. People think that elves are cheerful all the time, but every so often they can misbehave. Young elves will argue over who gets to put the star on the Christmas tree in decorating class, or who got more marshmallows in their hot chocolate at snack time, or who is first in line for outdoor recess. That's okay sometimes, but we have one important rule: NO BULLYING.
Bullying is when a person says or does something to hurt another person or hurt their feelings. Has anyone ever made you feel bad by teasing you or pushing you? It sure feels much nicer when everyone is kind to each other.
It's so easy to be nice! When you help your friend solve a jigsaw puzzle, that's nice. When you help somebody get up when they fall down, that's nice. When you help your mom tidy up the house, that's nice. Santa can see these kind actions, and it makes him happy to put your name on the Nice List.
But once you are on the Naughty List, you have to work extra hard to get off it. It makes Santa so sad to see good children behaving badly. When kids yell or hit or tease each other, they are not being a good friend. One secret trick you can remember is to treat everybody in the kind way that you would like to be treated.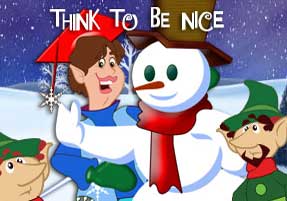 When we use our hands for helping instead of hurting, we can build wonderful things together like snowmen, forts, toy towers … and most important of all, we can build better friendships. Take this quick quiz to see what you learned today:
What is the important rule at the School of Wonders:
1. No dancing
2. No singing
3. No bullying
4. No giggling

What is one way to be nice:
1. Pushing somebody down
2. Calling someone mean names
3. Telling somebody they can't play with you
4. Helping somebody up when they fall down

What is a secret trick to stay off the Naughty List:
1. Treat everybody the way you would like to be treated
2. Yell at your friends
3. Hurt or tease your little brother or sister
4. Be rude to your teacher and parents

I hope you enjoyed our classes this year. I'll be thinking of you all when we get back to school next month and start working on more Christmas projects. Have a very Merry Christmas! We'll see you again next year!