Welcome to the closing ceremonies of the Reindeer Games. Santa's Great Eight Reindeer led the parade around the North Pole to the Palace where they were honored for their efforts with Comet and Dasher leading the group by special request from the rest of the team for saving Santa and Waldo.
The roar of the sold-out crowd, when Santa himself arrived to congratulate his team, could be heard as far away as Longyearbyen, Norway located 814.27 mi (1,310.44 km) south of the North Pole!
A special award was given to Rudolph for overseeing the games this year in Santa's absence. "All the reindeer worked hard and played fair in this year's games, and we're all very proud of them," said Rudolph. "We're grateful Christmas will not be cancelled and our great reindeer once again will take to the skies to lead Santa's sleigh on Christmas Eve."
Santa had Rudolph hand out the gold medals to the reindeer, as the closing ceremonies marked the end of the Games.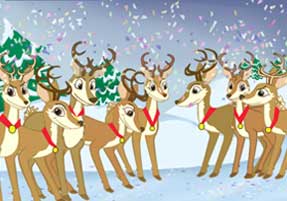 Our winners were Prancer in the High Jump, Cupid in the Long Jump, Dasher in the Sprint Race, Donder in the Around the World Marathon, Dancer in the Figure Skating, Comet in the Speed Skating, Vixen in the Obstacle Course and Blitzen in the 2222 Mile Marathon.
Congratulations to all the reindeer on their well deserved victories. Clearly the annual Reindeer Games display the unimaginable strength, stamina, grace and speed of Santa's "Great Eight" and proves to help them prepare for the long journey ahead.
"The next BIG event is Christmas Eve," exclaimed Santa as he gazed proudly at his famous deer. "This special group will surely pull my sleigh to all the homes of good little boys and girls allowing me to deliver all the gifts... and thanks to all the extra efforts from our elves, there's a LOT of gifts!"
Thanks for following the games with us this year. We hope you will join us again next year as we prepare Santa's magical reindeer for another Christmas journey.