Santa's sleigh stood shiny and sturdy in the center of the workshop. In front of it were eight reindeer, harnessed to the sleigh by thick leather straps covered in bright silver jingle bells that tinkled merrily with every impatient stamp of the reindeer's hooves. Timbo Elf hovered nearby, calling out instructions to the stable Elves who were adjusting the harnesses.
"Make sure Dasher's breastcollar is nice and snug! It looks like Comet's traces are twisted! Can someone do something about Cupid's crupper? Do I have to do everything myself?"
"He's like this every year," said Burpee Elf as he laid out the reins for Santa. "Some day I'm going to sit over his shoulder and yell at him while he types his Reindeer Game stories, and see how he likes it!"
While this was going on at the front of the sleigh, another group of Elves were at the back, making sure Santa's bag was securely fastened to the sleigh. "Let's get those bungee cords nice and tight!" called out Toby Elf as the Elves pushed and shoved the enormous bag onto the sleigh.
"It looks like we're missing a bungee cord!" called out Smitty Elf. "Has anyone seen it? It's red and..."
"Whoopeee!" came a shout from the rafters. Suddenly, an upside down Waldo Elf appeared, a red strap tied to his ankle. "I've always wanted to do this!" he shouted. Then, after a minute, he said "Can someone help me? I'm stuck!"
"Can we just leave him like that?" asked Smitty Elf. "I promise we'll feed him!"
"No," said Toby Elf. "We need that bungee strap. Someone get him down."
Soon, the bag was fastened and ready, as were the reindeer. All the Elves got quiet for a moment. The work of the past year was there on the sleigh, ready for Santa.
"Ho, ho ho!" came a voice from the door. It was Santa, wearing his best red suit. "Are we ready to go?"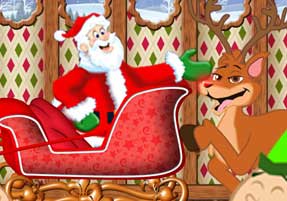 "Not quite, Santa," said Bernard. He picked up his walkie-talkie and spoke into it. "Bring in The Beacon!" he said. And a red streak flew over their heads, did a couple of loop-de-loops, a corkscrew or two, and then hovered in the air, just in front of the sleigh. It was Rudolph!
"Wow," said Timbo Elf. "If they ever DID let him play in the Reindeer Games, he'd probably win every one!"
"There's some tricky weather along the East Coast, as well as some storms in Europe. It looks like the rain in Spain is going to be a pain," said Bernard. "We're going to have Rudolph fly ahead of you to keep you on schedule."
"Great idea, Bernard!" said Santa, who tossed Rudolph a little piece of parsnip (Rudolph's favorite vegetable). "Well, then, let's not keep the children waiting!" He turned to the Elves all around him. "Thank you for your help! I'll see you all on Christmas Day!" He flicked his reins, and the reindeer pulled the sleigh up into the air, and out towards the door. "Now dash away, dash away, dash away all!"
It's been another great year at the North Pole, and we're glad you've been faithful readers of The North Pole Times! Check in tomorrow for a special note from Santa! Merry Christmas to all!