The final event of the Reindeer Games is here! Today, the reindeer begin the 2222 Mile Marathon, the final test before the Big Run on Christmas Eve.
Well, that's if we can find Santa. But that's looking hopeful now as the elves are back to work, and the Santa Spotters have helped to locate the Santa One rocket. The rescue rocket is almost ready, and so are the reindeer for the final event.
Santa Spotters, key an eye on the sky, as our 2222 Mile Marathon begins at the North Pole and heads toward Canada, goes through Quebec and then to Schenectady, New York, before turning around and heading back to the North Pole.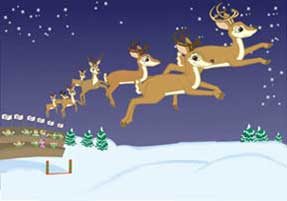 That's a bit longer than 2222 miles, but the Reindeer don't mind and, well, they need the exercise to be ready for Christmas Eve.
And so we're ready for the start. Vixen, Prancer, Dancer, Dasher, Cupid, Comet, Blitzen and Donder are at the starting line and they're off and heading up over the horizon and toward the U.S.A.
Santa Spotters, keep watching the skies, especially around Schenectday, and perhaps you'll see our Great Eight heading past your home!
And check back tomorrow to see who wins the eighth and final gold medal of the Reindeer Games.