Editor's Note: Although the North Pole Times runs daily year 'round, we only allow "Southerners" (which to us is anyone who doesn't live at the North Pole) access to our publication during the Holiday Season. At our request, Santa Claus has graciously written a note to welcome all of you who are visiting us for the first time!
Ho Ho Ho and Happy Thanksgiving from the North Pole!
I know that this is only 'officially' Thanksgiving in the United States, but I think it's such a wonderful idea that we all decided to celebrate it up here too! (By the way, I also celebrated Canadian Thanksgiving on October 10th, as well as other Thanksgiving festivals in Brazil. China, and even Korea!)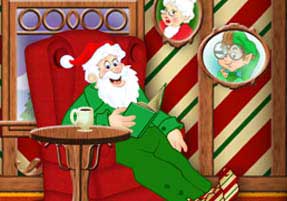 I think giving thanks for everything we have is a very important thing to do! In fact, every night before I go to sleep, I think of three things that happened to me that I'm thankful for. Last night, I was thankful that 1) Mrs. Claus sewed up a hole in my favorite mittens, 2) I got to watch my reindeer practicing for the upcoming reindeer games, and 3) I have so many wonderful, hard-working elves as friends! Can you think of three things you can be thankful for, right now? I'll bet you can!
And I'll bet one of the things you're thankful for is that Christmas is almost here! I know we're all excited about it at the North Pole! So if you're one of my fans, don't forget to read up on all the fun and funny things that will be happening this Christmas season right here at the Official Newspaper of the North Pole—the North Pole Times!