Editors note: From time to time, The North Pole Times asks some of the more notable citizens of the North Pole to write a little bit about themselves as a public service to our readers. Today's guest reporter is Louis Elf, Santa's Chief Fashion Elf!
I've been interested in designing and making things all my life. And when you're an Elf, that's a looong time!. But when I was a little Elf, I would sometimes get frustrated, because the image that was in my head never seemed to be what my hands made.
It got worse at Christmas. I'd want to make something for my parents, and it wouldn't turn out right. One year, I made my mother a pair of mittens. I thought they weren't very good, and wasn't going to give them to her. My father convinced me to wrap them and put them under the tree anyway. I thought she would be disappointed when she got them, but she wasn't! She knew I had worked hard on them, and she loved them--not because they were perfect--but because I gave them to her! She still wears those mittens to this day.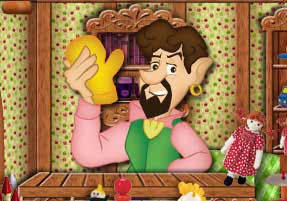 The reason I'm writing this is because sometimes home-made presents are the best presents you can give. Don't expect that what you're making will be perfect--especially if you're just starting out. If you made it with love, it will be exactly the present you were supposed to give.
And keep making things! The more you make, the better you get at making things! Good luck, and have a Merry Christmas!