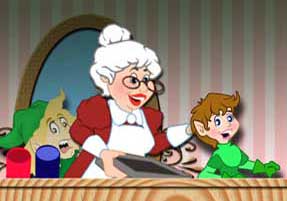 Mrs. Claus and Jiller Elf walked through the empty workshop, looking at the benches filled with half-made toys. The elves who would normally be hard at work this close to Christmas, but instead they were all outside, marching around the building, holding up signs protesting the change in diet. Mrs. Claus and Jiller could see them out of the windows.
"'Candy not Carrots.'" said Jiller, reading one of the signs out loud. "I guess they really didn't like my idea of changing their diet from snacks to vegetables."
"At least they're very well-made signs," said Mrs. Claus. "And it seems like Gizmo's going to have the rescue rocket ready soon, so that we can go and get Santa and Waldo Elf from orbit, and have them down here in time for Christmas."
"Plus, the Santa Spotters are doing a very good job locating Santa's space ship as it flies around the earth," said Jiller. "So we'll know exactly where to launch the rocket to get them!"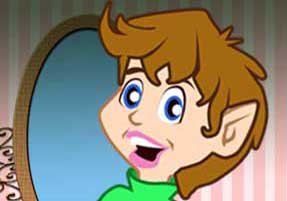 "But when Santa comes back down, will he have any toys to deliver?" Mrs. Claus asked. "If the elves don't get back to making toys, there won't be enough for all the girls and boys on Santa's 'Nice' list."
"And there's no one else to make the toys," sighed Jiller. "Right now, I'd say the chances of a Merry Christmas are pretty abominable."
Mrs. Claus stopped suddenly, and thought deeply. Then she smiled. "I think that might just be what we need!" she said, and rushed out the door!
What is Mrs. Claus thinking about? Will it help make toys? Keep reading the North Pole Times to find out!