Waldo, Mikee, and Gizmo were still in the cage. As you remember, dear readers, the meanie called Boogerwig trapped them. The elves found the meanie who had launched the virus and caused the mess at the North Pole.
After talking with Boogerwig, the elves learned that he hates them and Christmas too. What they didn't understand was why.
"You can't hate Christmas! Christmas is in your heart!" Mikee said passionately.
"Me have no heart! Santa took family!" grumbled Boogerwig. "Me hates Santa! Me hates you goody, goody elves! ME HATES CHRISTMAS!
The elves were shocked. They had never heard of anyone who hated Santa and Christmas.
Well, something happened long, long ago when Boogerwig was still a sweet little, although a bit clumsy, elf.
"What happened to you, that you hate Christmas so much?" Gizmo asked cautiously.
"Me very much loves lembas bread," Boogerwig began.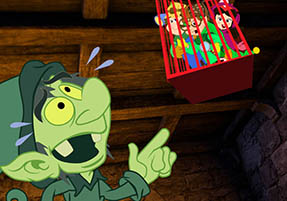 Many years ago on Christmas Eve, little Boogerwig couldn't wait to sample the fresh-baked lembas bread his mom just prepared. Fresh-out-of-the-oven, the sweet aroma of the fresh-baked bread lingered throughout the kitchen.
The enticing smell was too much for Boogerwig to resist.
"I just wanted to get closer look," said Boogerwig reluctantly. "I wasn't try to take… well… maybe me was, but…"
When little Boogerwig grabbed the plate, it was still hot. REAL hot! It had just come from the oven after all.
"Ooooouuucch!" screamed little Boogerwig dropping the plate of lembas bread all over the floor. But that wasn't the worst of it. THAT was yet to come...
"Ha ha ha! You messes up again!" his brothers and sisters pointed and laughed. "You always messes up!"
Hurt and humiliated, little Boogerwig hurried to pick up the bread but mom, already at the doorway, came to see what all the commotion was about.
"You little Boogerwig!" she yelled. "What have you done?!"
"He's little Boogerwig. He makes a mess of things. He's little Boogerwig. He makes a mess of things." his siblings teased relentlessly. "Ha, ha, ha-ha, ha!"
Little Boogerwig's face turned red as he screamed, "Them makes fun when me make mistake. Me hates them! Me hates everyone!"
He ran to his room, slammed the door, and cried himself to sleep.
When he woke on Christmas morn, little Boogerwig found no one at home. His mom, dad, granny, and all his brothers and sisters were gone.
It was Christmas Day so the only one who would have visited their home would have been Santa. Boogerwig was convinced Santa had taken his family away.
"Santa took me family at Christmas. Me hates Santa. Me very much hates Christmas," Boogerwig screamed.
Waldo, Mikee, and Gizmo couldn't believe what they heard. There had to be another explanation. Clearly, there's something missing here.
"I think I heard this story a long time ago; but it can't be your family…" Gizmo said unsure of himself. "I don't remember how it ends, though. I've always thought it to be a myth."
What do you think, dear readers? Will Gizmo remember the rest of the story? Is the family from the myth, Boogerwig's family?
Find out tomorrow. Right here on the North Pole Times.
#1 in Santa's News! Trusted Worldwide!