This week, my 1st grade elf was asked to write a riddle about one of the five senses. The senses help you taste, smell, touch, see, hear.
Imagine being a child who is missing one or more of the five. Life would be different, wouldn't it?
I know that I am grateful for all of my senses. I am very aware of everything to do with Christmas because of them. I can taste the cookies that we sample so frequently at the North Pole. I smell them baking and my mouth waters, in fact. I love touching smooth, shiny wrapping paper and feeling the stickiness of cellophane tape between my fingers as I seal presents that may be under your tree on the 25th. I see how happy you are when you help someone else. You are proud as you should be. I see how happy you are when you open a gift, even if it wasn't on your list to Santa. I will always remember your smile. I hear you talk about the fun times of the holidays, Christmas past and present, with grown ups, other family and friends.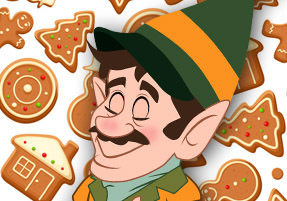 I hope you take time to stop and enjoy your senses of the season. Please also remember the real reason for the season. Be a grateful giver and and a happy receiver. Give a gift that will give joy. When you receive a gift, please remember to say "thank you". If you're older, even write an email or a note to say thank you to the person or people that gave a gift to you. You will pleasantly surprise grownups around you, another way to feel proud.
Most of all, I wish you the merriest of Christmases on December 25. We have been busy all year getting ready for the big day. Just as we couldn't get everything done in one day and we have to work the year-round, so do you. You can't just be good for one day and expect that to be enough. You need to try your best every day all the year through. I know you can do it. Do you?
Sure, you know. And with that, I'll leave you until next Wednesday.
Eddie Elf