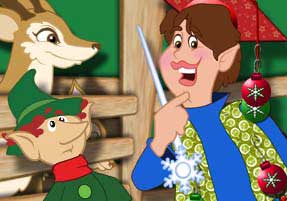 Happy Holidays everyone! I'm Professor Ellie Elf and I'm the teacher at the School of Wonders here at the North Pole.
Teamwork is very important. Without it, we couldn't help Mr. and Mrs. Claus run the toy workshops and reindeer stables. The truth is, unless we work together, we would never get anything done right. At the School of Wonders, I teach young elves the value of teamwork. Do you think just one elf would be able to build a toy all by himself, paint it, box it, wrap it in pretty paper and carry it over to Santa's sleigh? It would take too long and you might not get your Christmas present until the fourth of July! It takes many elf hands helping together in our busy toy workshop to build all the toys for the children of the world. Some elves build, some paint, some wrap and some load the sleigh. Together we make a magical team!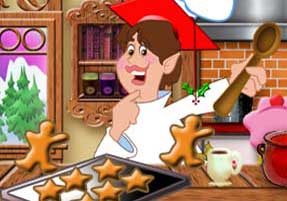 Now think about building a gingerbread house. Do you think one elf would have fun doing that all by herself? Not really. It's so much more fun to work together! One elf bakes the gingerbread, another trims the walls to fit, more elves use the yummy icing to glue them together and still other elves take turns decorating them with colorful gumdrops, peppermints and jellybeans. Without teamwork, the gingerbread walls would fall down and the house would be a disaster.
When we show respect for each other and work together, the sweetest things can happen! Try to be helpful and work together in your class at school, and see how lots of helping hands can make a big difference.
Take this quick quiz to see what you learned today:
Who does NOT live at the North Pole:
1. Elves
2. Reindeer
3. Tigers
4. Mr. and Mrs. Claus


How do elves decorate gingerbread houses:
1. With paint and wallpaper
2. With gumdrops, peppermints and jellybeans
3. With brussel sprouts and lima beans
4. With chocolate Easter eggs and bunnies


What happens when elves work together:
1. They have snowball fights
2. They don't get anything done
3. They work very slowly
4. They work fast and have fun