As you already know, our dear Waldo has been missing.
To understand better what made him leave his home and friends he's always loved despite all their (sometimes bad) jokes, you need to know what happened at the Thanksgiving feast.
As the elves were enjoying Mrs. Claus's delicious turkey, Waldo couldn't take his eyes off the new elf at the table. It was the most beautiful elf he'd ever seen. Her long ears were peeping out of her long dark brown hair. She was wearing a red ribbon, the color of the strawberry and mustard pudding in her hair.
"Mmmm.... pudding...." thought Waldo. "No, no, she's more beautiful than all the pudding in the world!"
Waldo couldn't notice the tempting smell of the crispy roasted turkey, nor the juicy cranberry sauce. He didn't notice anything but Mikee.
She was a new member of Gizmo's workshop. In fact, she was Head Craft Room Elf, credited for all the crafts children around the world couldn't wait to try.
"Beautiful and smart!" thought Waldo. "What more could an elf wish for? Well, maybe a …. No, nothing more, nothing but Mikee!"
It seemed that Christmas came earlier for Waldo this year.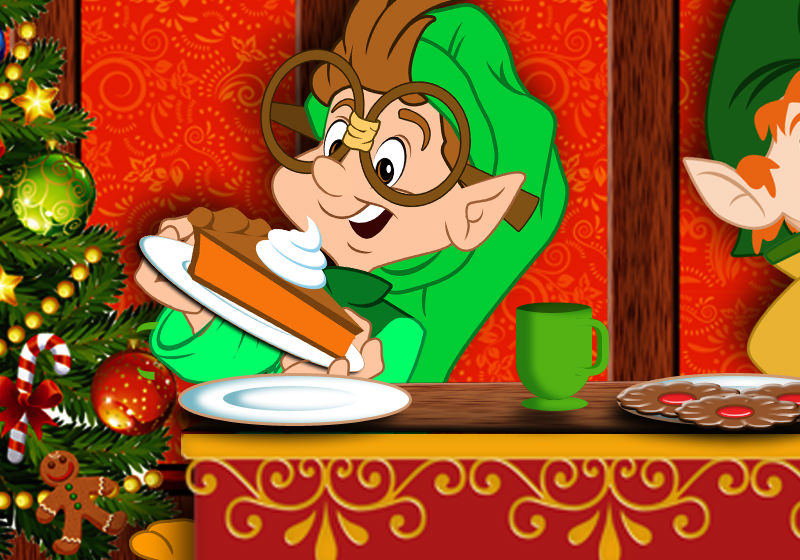 The delicious pumpkin pie made by Mrs. Claus gave Waldo a brilliant idea! He would give a piece of pie to Mikee, and their eyes would meet. What could possibly go wrong? Nothing! Well...
Waldo practiced the speech in his head: "Would you like a piece of cake, no, pie... Would you like a piece of pudding pie, no, no! Would you like a piece of pumpkin pie?... That's it!"
Waldo took a piece of pie on a plate, moved his chair back, took a step, and...
What do you think might've gone wrong? Did Waldo trip and fall down? What happened to the pie he was carrying? Keep reading The North Pole Times to find out!