Super Secret Jack Spinner, Specialized Sleuth, stopped the car and called through the blizzard, "Kosmic? You there?"
"Right beside you. Couldn't we find a car with a roof? There's enough snow in here to build a snowman!" Zach was holding a battered umbrella in place of the missing roof. It was very heavy with snow.
"I know a good, classic car when I see one. This old girl's just the thing for a cross-country adventure!" Jack slapped the dashboard. The passenger-side door fell off with a soft clunk. "Haha! See? Clever old thing, getting rid of that dead weight!"
Zach said quietly, "You know, I think I could be more help if you told me-"
"Tell you about the Super Top Secret Classified Confidential Case?! I'm afraid not. It's a Seriously Covert Operation. Just… just help me find where we are on this map!"
Zach took the map, turned it the right way up, then said, "The map's no use at the moment, but-"
"Never fear! I'll work this out!" Jack Spinner leapt onto the car bonnet, which gave a wheeze. "I'm sure if I just-"
Zack tossed aside the umbrella and pointed towards a nearby road sign:
Thank you for visiting Hudson Bay.
Super Secret spluttered, "We're still in Canada?! We're supposed to be in the UK! We left a week before Thanksgiving!"
Zach stared in disbelief, "The UK? We can't drive to the UK! It's an island! Look!" Zach thrust the map under Jack's nose. "We can't drive over the ocean!"
Super Secret Jack Spinner took a deep breath before replying, "Well, of course, I know that! We'll… my plan is-"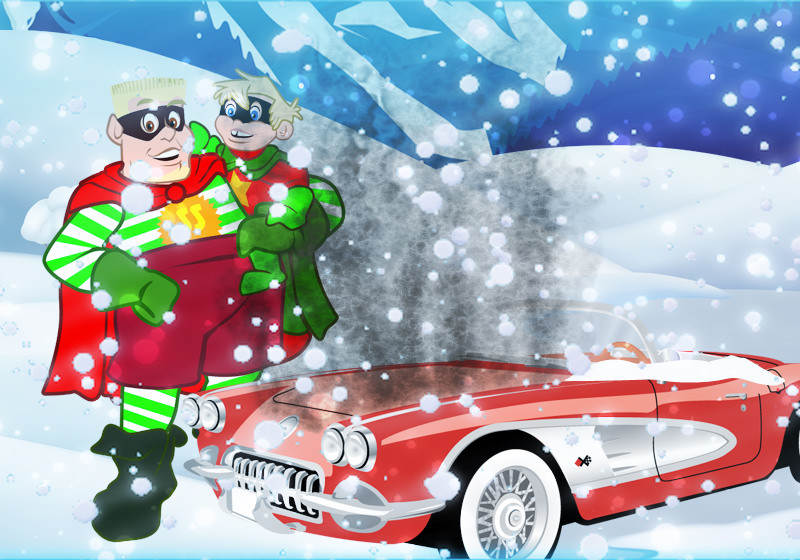 "We'll need to get a boat."
"Exactly my idea all along! Stop interrupting me!"
"Or perhaps a plane would be a better idea?" the Kid muttered under his breath.
Jack turned the key in the ignition and a huge plume of black smoke erupted from the exhaust. The engine died with a sad whine. Jack leapt from the car.
"Best to walk! We'll park the old girl here!"
Jack strode off into the snow so quickly, that soon Zach couldn't see him at all! He was lost! Alone! In a terrible blizzard! How would he ever find Jack?!
Will Zachery the Kosmic Kid find Super Secret Jack Spinner? Will they ever make it out of this snowstorm? And what is the Super Secret Mission? Use your Super Secret Decoder Wheel for a sneaky peek or log on next week to find out!
Same Super Secret Time! Same Super Secret Place!
Super Secret Decoder Key: A=B
Super Secret Decoder Code: GJOE TBOUB'T HMPWF