When people think of Elves, they think of bright, energetic, and outgoing little people--always singing, always laughing, always working together. But just like with humans, there's other Elves who don't act the way other Elves act. At the North Pole, we do our best to make sure these Elves know that they are still a part of the family, and that we care about them as much as we do anyone else.
One such Elf is Twinkle Elf. Twinkle is the smallest and shyest of all the Elves at the North Pole. Twinkle doesn't like to sing very much, although he plays the clarinet very well. And Twinkle isn't very good at making toys, or wrapping presents, or working with the reindeer.
What Twinkle is very good at, is understanding. "Twinkle may be small, but he has a heart as big as anyone's," said Santa. "I've never heard Twinkle say a mean thing to anyone, or about anyone. That's why I put him in charge of my Rules."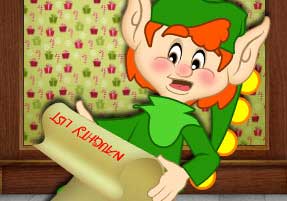 Being in charge of Santa's Rules is a very important job indeed! Have you ever wondered who decided what is Naughty, and what is Nice? Santa decides, and that's what his Rules are all about. It's Twinkle's job to figure out how to apply the rules to children.
"Sometimes Nice kids do things that are Naughty," said Twinkle. "It's my job to understand why, and to make sure they know what to do to make sure they stay Nice!"
Have you ever wondered if you're Naughty or Nice? Click the link at the top of the page to find out. Twinkle will be glad to let you know!
And keep reading the North Pole Times!