Santa stood on the stage in the great hall of the North Pole. To his left stood Teema Elf, and to his right was Waldo. They were the two finalists in the North Pole's Got Talent contest. "We're counting up the votes to see who the winner is," said Santa. "It should be just another minute. Are you nervous?"
Teema smiled awkwardly. She was Timbo Elf's cousin, a farm Elf from Wisconsin. She had come to visit him for the Christmas season, and suddenly found herself in the spotlight because of her beautiful singing of "Silent Night." It was obvious that she was not used to so much attention, but she was beginning to enjoy it. "Well, yes, Santa, I'm a bit nervous," she began. "On the farm, I only sing to the cows, but..."
"I'm just hungry," interrupted Waldo. "Will this take long? I have a peanut-butter and mackerel casserole in the oven and I don't want it to go bad." Waldo Elf was---well, he was Waldo. For the talent contest, he sang a song he wrote himself, called "Santa Claus is my Buddy!" Everyone who heard him sing agreed that he could sing very loud.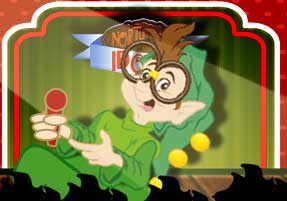 Waldo and Teema were the finalists because every other contestant wanted to sing "Santa Claus is Coming to Town," and that was too much of one song for Santa.
Bernard Elf and Mrs. Claus came onstage. Mrs. Claus handed an envelope to Santa. "Adamup Elf counted all the votes," said Bernard. And the winner's name is in the envelope.
Santa opened the envelope and smiled. "Ho ho ho!" he cried. "The winner by a unanimous vote is: Teema Elf!" The crowd cheered wildly as Mrs. Claus handed her a trophy. "I'm so happy!" said Teema. "I've never won anything before!"
Santa shook Waldo's hand. "Well, Waldo, you came in second, and that's not bad."
"That's all right," said Waldo, "I didn't vote for myself either. The song was great, and the costume was even better!" Santa looked puzzled. "What costume?" asked Santa.
Waldo pointed at Teema. "That costume!" he said. "That's obviously Timbo Elf wearing a dress! Ha ha ha!" Waldo laughed, until he looked into the crowd, and saw a shocked Timbo Elf looking back at him. "Oops," mumbled Waldo. Some of the Elves in the crowd started laughing.
Mrs. Claus put her arm around Teema. "Come on with me, dear!" she said. "There's a celebration party at our house!"
"Okay everyone!" said Santa. "Thanks for making this contest such a success! Now let's get back to work!"
What will happen next at the North Pole? Keep reading The North Pole Times to find out!