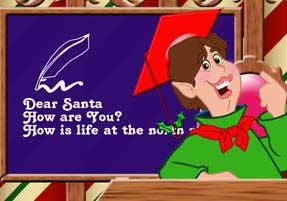 Hello and welcome back to Santa's School of Wonders! I am Professor Ellie Elf and today I am teaching elves how to make a present using a pencil, a piece of paper, and their own special thoughts.
Do you have a pencil, paper and lots of erasers nearby? I hope you will join us as we write Christmas letters in class. At one time, before cell phones and computers, people who lived far apart could only talk by writing letters. Imagine that! Letters were sent by train, boats or even by people on horseback. It could take months to for a letter to get from one place to another. Getting a letter was like getting a little treasure. Do you ever get excited when you get a letter in the mail? I bet you can barely wait to open the envelope, right? Everyone loves getting letters – even Santa. When you write a letter to someone, you give that surprise and happiness to another person. That is why letters make great gifts!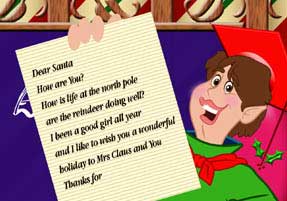 Today, each elf in class is writing a letter to someone important. I bet you have someone important – like a kind teacher, coach, neighbor or friend. This year, make a letter as a present for your important person and then see how happy it makes them! If you can't write yet, ask an adult to write your thoughts for you or draw pictures to show your thoughts.
In your letter, try to make your person feel special. You can write:
Why you are happy that person is in your life (Does that person make you smile or help you learn?).
How that person is like no one else.
A special memory of that person. You can even write, "I smile when I remember…" and then write your memory.
When you are done, decorate the letter with drawings or stickers. Then, put it in an envelope, decorate the outside, and mail it or give it to your important person. Your person will be so happy to get your letter! I bet it will be their favorite present this year!
Come visit our classroom next week to see the mess as we get all wrapped up!