Our dear Waldo was shaking from fear. As if bullying, wandering in the wilderness, and flying into Yeti's ear hadn't been enough for poor Waldo, now he had to face a new threat. Yeti's giant paws with long claws were moving toward him!
Unable to escape, poor Waldo just closed his eyes. He was ready for his destiny, whatever it was. However, the most unexpected thing happened! It was the only thing that Waldo couldn't even dream of.
Yeti took Waldo gently into her giant paws and held him tight on her chest.
After many days spent outdoors in snow and ice, Waldo's tinny frozen fingers and feet were finally warm under Yeti's soft fur.
However, apart from the heat, Waldo felt something else, something he'd never felt before. In Yeti's hug, Waldo felt the love of a true friend for the first time in his life.
Waldo couldn't understand how a big, scary Yeti could be so kind and full of love.
"Thank you," said Yeti softly. "You've cured my ear."
Too confused to realize what had just happened, Waldo tucked himself deeper into Yeti's fur.
"What are you doing here, so far from Santa's village?" asked Yeti.
Waldo explained to Yeti all about the sad event that hurt him and made him feel rejected by others.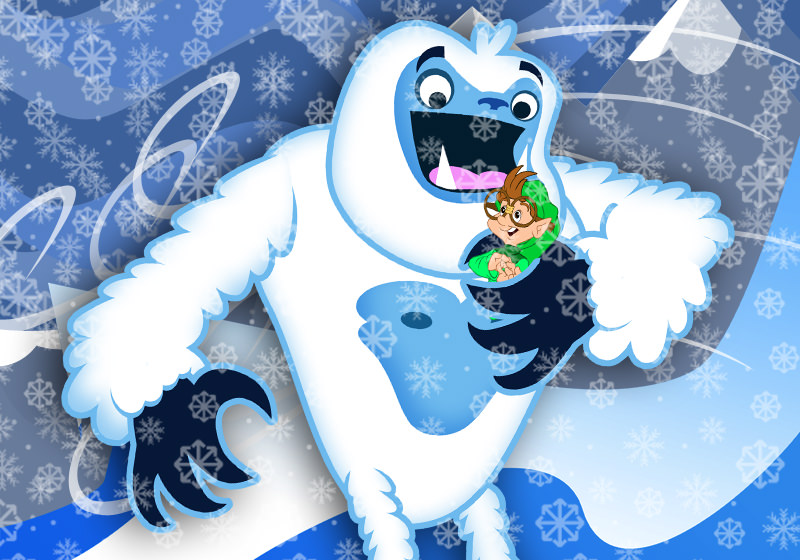 "Now you know how I feel," said Yeti sadly. "All I've ever wanted was to bring my baby to your Christmas party. I wanted her to feel the joy and spirit of Christmas, but all of you were running away when you saw me."
Waldo couldn't believe his ears. Scary Yeti wasn't scary at all! She was a caring mummy! They were afraid of her for no reason.
For the first time since he left Santa's village, Waldo thought of going back home, not for himself, not for the elves, but for a new friend and her baby. Everyone deserved to feel Christmas magic, especially the little ones.
What do you think? Will Waldo return to Santa's village? Read all about it TOMORROW on the North Pole Times. #1 in Sata's News! Trusted Worldwide!