Bernard Elf hurried to across the main square, the center of the North Pole. He was on his way to the Wrapping Room, where all the presents are wrapped before they're put into Santa's Bag and placed on his sleigh to be delivered on Christmas Eve.
Normally, this close to The Big Night--as the Elves sometimes call it--the Wrapping Room is stacked to the rafters with presents of all sizes. That's why Bernard stopped when he walked in, then he stepped outside to look at the building to make sure he was in the right one.
"This is the Wrapping Room," he said. So where's the wrapping paper? And more importantly, where's the presents?"
"I don't know!" said Holly Elf, anxiously. Holly Elf was in charge of wrapping all of Santa's Christmas presents. "When I left here on Friday night, the room was full. Today..." she gestured all around her. "There's nothing left!"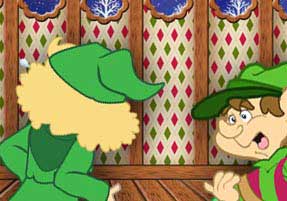 "Where did they go?" asked Bernard. "Did you move them somewhere?"
"No!" said Holly. "This was where I left them."
"Well, how many are missing?" asked Bernard.
"All of them. Duh!" said Holly.
Bernard shook his head, and tried again. "What I meant was, are there other presents somewhere else? Are there more presents to be made?"
Holly started to cry. "No! We had them all stored right here. This was all the presents--and they're gone!"
What happened to the presents? What will happen on Christmas if there are no presents for the children? Keep reading The North Pole Times for more news on this event!