With less than a month to go before The Big Night (which is what Elves call Christmas Eve), the North Pole is a very busy place. This year, it's even busier, because a Yeti came with a letter from the grand-daughter of Ha'penny Elf, an elf who left the North Pole years ago. The letter said that she (and her son) were coming for a visit. And now, it seemed that there was another yeti coming through the trees!
Holly Elf pointed out the window at the looming shadow in the trees. "See it, Bernard? I think it's another Abominable Snowman! "
Holly Elf was the official Santa Spotter of the North Pole, the sharpest-eyed elf there was. Bernard Elf joined her at the window of the mail room (where he and the first Yeti had been sorting mail), and peered out at the distant figure. "What the jingle's going on this year?" asked Bernard. He turned to the large creature in the room. "Do you know anything about this?"
The Yeti squinted out the window. "Can't see much of nuthin' out there," he said, and then he sniffed. He sniffed so hard that he sniffed Bernard Elf's hat right off his head! "It don't smell like me," he said. Then peeled Bernard's hat off the tip of his nose. "Here's your cap, Bernie," he said.
"Thanks. I think," said Bernard.
The three went outside, where a crowd was gathering in the main square to watch the approach of the new visitor.
"Ho, ho, ho, Bernard!" said Santa as the three approached. "It doesn't snow but it blizzards! Looks like another letter's coming!"
"I wonder what this one's about," said Toby Elf.
"It could be a letter from a very important movie star," mused Louis Elf.
"Maybe it's from Ha'penny Elf's Granddaughter, saying she can't make it after all," suggested Jiller Elf.
"Maybe it's Ha'penny's Granddaughter herself," said Waldo Elf.
The other elves laughed. "I don't think so, Waldo," said Ali Elf. "Even the biggest Elves aren't all that big, and that seems to be a very big creature coming this way."
"Maybe she just eats well," Waldo replied. "Speaking of eating, I'm hungry. Is there any strawberry-and-mustard pudding left?"
"What about the big bowl of it that you're holding?" asked Toby.
"This is for Ha'penny's Granddaughter. I meant is there any other strawberry-and-mustard pudding left?"
The Yeti sniffed again, and smiled. "That don't smell like no Yeti," he said, and sighed. "That smell preeeettyyyyyy."
"Yep. And it tastes as good as it smells," said Waldo, inhaling deeply.
"Not pudding, silly Waldo!" said the Yeti. She smell good!"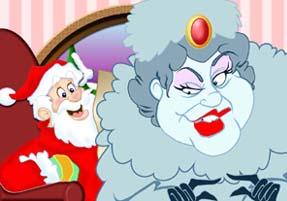 And with that, the creature pushed past the final trees, and walked into the clearing. She--for it was a woman--was large, and pale, and wore a big white fur coat. She also wore a sneer. "Which one of you is Santa?" she demanded. "Speak up!"
"Generally speaking, the one who wears what is commonly known as a 'Santa Suit' would be your first guess," said Santa, stepping forward. "And that would be me. May I help you?"
The woman raised her eyebrow at Santa. "Of course you may," she said, "for I am the Granddaughter of Ha'penny Elf."
Who is this woman? What does she want? Could it be that she wants Strawberry-and-mustard pudding? Keep reading The North Pole Times to find out!