The North Pole is a small town. Small, because Elves are small people, and small, because there's not a lot of Elves who live there! So, Elves know each other pretty well, and when a new Elf comes to town--even for a visit--all the other Elves hear about it quickly. That's why Teema Elf's visit was such big news. A farm Elf from Minnesota who visits the North Pole doesn't happen all the time!
Waldo Elf was surprised, then, when he kept hearing about a new Elf. The first time was in the wrapping room, where extra Elves were called in to wrap all the presents.
Zoolie Elf had just wrapped a basketball, and was putting on the bow. "Hey, remember when Weirdo Elf wrapped a ball and then put a hundred bows on it because he didn't know which end was up?" And a lot of the Elves giggled at that.
"Well, that makes sense to me," said Waldo to himself. "It's what I would have done. In fact, it's what I did last week!"
The second time he heard the Elf's name was at dinner, when Arbo Elf accidentally dropped a gingerbread man in his onion soup. "I'll bet this is something Weirdo Elf would enjoy!" he said, laughing.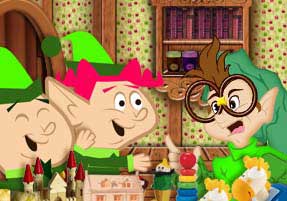 "This Weirdo Elf fella sounds like my kind of Elf," said Waldo, dipping his cookie into his soup.
But no matter where he went, Waldo couldn't find the new Elf. Then, while he was outside the reindeer barn because Rudolph said he wanted to talk to him, he heard two stable Elves talking to each other.
"Get this," said one, "Waldo Elf's been running around the North Pole all day looking for a new Elf named Weirdo Elf!"
The other Elf laughed. "You mean he doesn't know that he's Weirdo Elf? That's the best Weirdo Elf story yet!"
Waldo called out to the two Elves. "Hey! My name's not Weirdo! It's Waldo!" At that moment, Teema Elf came out of the stable, a sack of reindeer feed in each hand. "Yeah, but it sorta fits, doesn't it? You're not like the other elves. I mean, what's up with all those strange foods you eat? Sorta...weird, ya know?"
Waldo walked back to his room, shocked, and a bit confused. Was he really that much of a weirdo? Keep reading The North Pole Times to find out what happens next!