There's been quite a stir recently here at the North Pole. Our little friend ChrisMouse, who loves running behind the walls at Santa's Village, has become a little bolder. "He's now gotten into the website" says Gizmo Elf. "He randomly pops through the bottom of pages then scurries away to other pages. You just never know where he'll be next."
ChrisMouse plays an important roll at the Pole. For example, when you click on him at the top of the Post Office he'll make letters fly. If you do the same in the Workshop, he'll get the Appendapulator to start making toys. "He also wakes me up in the Story Room" Santa exclaimed. "And makes my nose glow in the Reindeer Barn" added Rudolph.
"I like him" says Waldo Elf, "He likes to play one of my favorite games—Hide and Seek! He just wants more people to play with him; that's why he snuck into the website."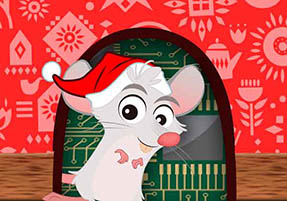 Gizmo Elf told us he didn't expect anything bad to happen but wants to be sure. "I just want to talk with him. Maybe he can even help with the behind-the-scenes work on the site" explained Gizmo. "Hopefully someone can catch him long enough to ask him to come see me.
We're even giving extra Nice points for every time you do." If you'd like to help, here's what you need to do; Go to as many pages on the website as you can. Look at the bottom of the page to see if he's there… that's where he typically pops through.
If you see him, click on him right away, and we'll give you an extra "Nice" point. If he's not there, try to refresh the page or hurry to another page to catch him. You can always come back to a page you don't see him on the first time. He's pretty sneaky so keep looking.