When Santa heard there was trouble in his stables, he ran out of the room, showing the speed that allowed him to visit so many homes in just one night, with Ali Elf running hard to keep up.
Bernard and Holly Elf chased after them, followed by Phil and Dolores Flemspackle, Santa's visitors.
When the group got to the stable, Santa and the other elves were nowhere to be seen. But there were other elves there, and lots and lots of reindeer. Phil Flemspackle looked around at all the animals.
A large, friendly elf in a football jersey approached. "You look a bit surprised," he said.
"There's a lot of reindeer here," said Phil. "I just thought there would be...you know...just eight or nine reindeer."
You mean Dasher, Dancer, Prancer, et cetera?" asked the big elf, chuckling. "We call them 'The Great Eight.' But they're not the only ones we have. Reindeer are a big part of what goes on at the North Pole. Look out," he said, pulling Dolores and Phil out of the way as a team of reindeer trotted past. The elf watched them go out the door, and over to the mail room. "That group that just went past was Jumper, Trotter, Zippy, Gumbo, Bonnie, Lulu, Pepe and Carlos." Out the door, the team was hitched to an empty sleigh. An elf climbed aboard and shook the reins, and the team leaped out into the sky. "They're on the mail run," the big elf continued. "Thousands and thousands of letters come to Santa every day, although we are getting more and more over the internet. We have two full teams of reindeer that do nothing but bring mail for Santa to the North Pole. They're so busy, they don't even get to play in the Reindeer games."
"I didn't know that," said Phil Flemspeckle. "I just thought it was the eight...well, nine, including Rudolph, that went out every year"
"Rudolph?" said the big Elf with a chuckle. "Rudolph doesn't go out every year. Only if it's really foggy or stormy. Or if one of The Great Eight can't make it. It happens sometimes. That's why we have so many other reindeer."
Just then, Santa came back from deep in the stables. "False, alarm, Timbo," he said to the big elf. "Everyone's fine, but it's still probably a few weeks away."
"What false alarm?" asked Phil.
"We have a new reindeer on its way, but it's not here yet," said Santa. "Would you like to see?" And Santa led his two guests deeper into the stables, to a little stall in the back, where two reindeer and a small elf were huddled together. One of the reindeer was larger than the other, and was laying down on a bed of straw."
"These two reindeer are about to become a family," said Santa. "Meet Ajax," and the standing reindeer bowed his head gravely, "and his mate, Scooby, who will be having a fawn very, very soon."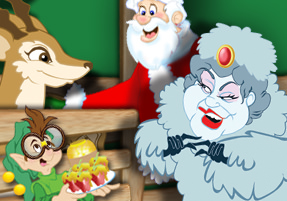 "And Waldo!" said the little elf next to them.
"...and Waldo, whom I believe you've already met," said Santa.
"Can these reindeer fly, as well?" asked Dolores.
"Well, yes. All North Pole reindeer can fly. But Scooby's not in any condition to fly right now, and Ajax won't leave her side, so they're not scheduled to do any flying this Christmas," said Santa. "What they need most right now, is to be left alone, so why don't we go back to my office?"
"And I'll stay here to make sure they're left alone!" said Waldo.
"Interesting," said Dolores, smiling a little.
What does she think is so interesting? Keep reading the North Pole Times to find out!