Waldo, Mikee, Gizmo, Boone, and Randolph looked at the screen of the central computer.
As you remember, dear readers, Randolph took the elves to Santa's village. There was a great mess caused by the virus Boone had launched on Thanksgiving Day.
Boone wanted to deactivate it and save Christmas as his family had done long, long ago. However, the virus was much more powerful than Boone had expected.
Boone took a black twig and said the magic words, "Boogey, Boo, Boom!"
But NOTHING happened!
The screen was still full of random commands that caused the chaos at the North Pole!
"Noooooooo!" screamed Boone. "Me magic not works! Me messes up!"
Waldo came closer and took Boone's hand. Then Mikee took Waldo and Gizmo's hands. Even Randolph pushed his horn through the window to join them.
"Let's try together!" Waldo exclaimed.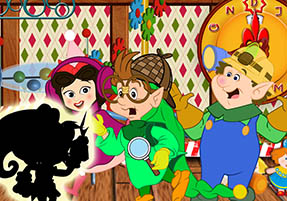 Boone took a twig and they ALL yelled, "Boogey, Boo, Boom!"
And it WORKED! Dear readers, the magic WORKED! The elves deactivated the virus that had caused the great mess at the North Pole and threatened to destroy Christmas!
The magic worked when the elves were together!
The central computer worked!
The Appendapulator started to make the correct toys, the reindeer barn was unlocked, and the smell of fresh-baked cinnamon cookies swirled throughout Mrs. Claus's kitchen!
The elves were jumping and cheering happier than ever! Oh, what a joy, dear readers.
Waldo, Mikee, and Gizmo were so overwhelmed with joy that they didn't notice what was happening right next to them.
Waldo turned to Boone and screamed, "What...? What happened to you?"
What do you think, dear readers? What happened to Boone?
Come back tomorrow to get the latest news about this exciting story. Right here on the North Pole Times.
#1 in Santa's News! Trusted Worldwide!