As the piece of pumpkin pie was flying towards Mikee's face, Waldo's whole world was falling apart. It started too good to be true. The new elf, beautiful Mikee, appeared at the Thanksgiving dinner and stole Waldo's heart. He wanted to give her a piece of pie and...
No, it wasn't Waldo's clumsiness this time. Poor Waldo didn't trip and fall, as many would expect. It was something else, something that crossed the line and made Waldo run into the wilderness. It was the Thanksgiving Disaster!
The elves at the dinner table had noticed the look in Waldo's eyes when he saw Mikee. Maybe for jealousy, maybe for a common habit to pick on Waldo, one of the elves, sitting next to Waldo, tripped him on purpose.
"Noooooo!" screamed poor Waldo trying to hold the plate with pumpkin pie in his hands.
Waldo did succeed in holding the plate, but not the pie that fell directly onto Mikee's beautiful face. The elves, who were laughing out loud, didn't notice Waldo's face red for the embarrassment he felt and his eyes full of tears. They didn't even notice Waldo running out of the room, hurt, and humiliated like never before.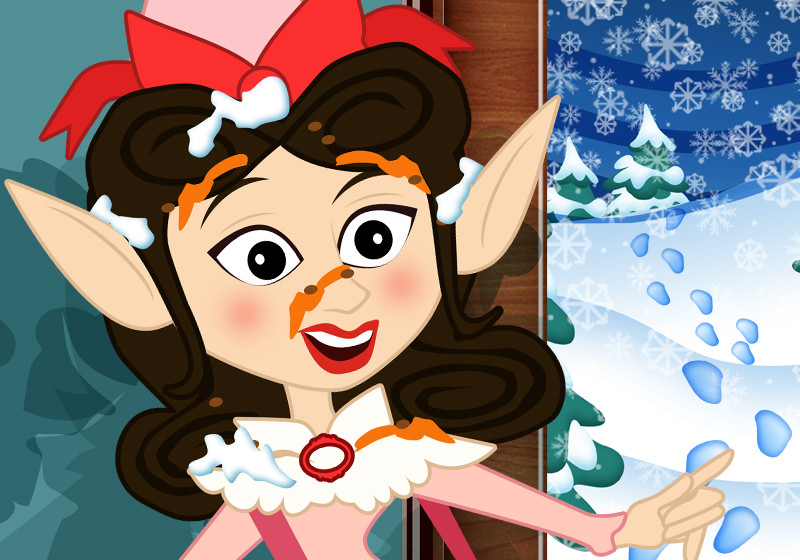 The only one who did notice was Mikee. However, until she wiped the pie off her face and went out, Waldo had been gone. Mikee couldn't see anything but his tinny footsteps in the snow.
"Waldo! Stop! Come back, please!" Mikee tried to call him.
As the snowflakes were shining in the dark, Mikee was thinking about what to do. She was new there and didn't know the place well. She didn't know where to look for Waldo, but she had to do something. Mikee didn't notice the look in Waldo's eyes, she didn't know that the pie was meant for her as a sign of affection, but she knew that Waldo had no bad intentions. She had to help him.
What did Mikee do? Did she go after Waldo in the wilderness? Keep reading The North Pole Times to find out!