Waldo Elf tripped along the streets of the North Pole. He was in a good mood. His friend Gizmo Elf, Santa's Chief Inventor Elf, had told him a secret--that he was making a spaceship for Santa! He had made Waldo promise not to tell anyone about it, and Waldo was looking for someone else to promise not to talk about it too!
Waldo saw Louis Elf walking along the street. The Fashion Elf had a whole roll of red fabric. "Hey, Louis! Guess what?" called Waldo.
"Guess? I don't need to guess!" replied Louis. "It's Christmas season, and Santa needs a new suit! I've got a lot of interesting fabrics and I'm going to make him look tremendous!" And with that, Louis hustled off. Waldo turned to go, and ran into Smitty Elf, causing him to drop his papers. "Oh my!" cried Smitty. "Help me get these picked up!" He and Waldo started picking up the papers. "Want to hear something interesting?" asked Waldo.
"Interesting! These lists are more than interesting!" exclaimed Smitty. "These are the wish lists of all the good boys and girls! I need to make sure the presents they wish for are appropriate for the wishers! Santa could get into a big fix if I don't go over these lists!" And Smitty hurried away to his office.
It seemed like every elf at the North Pole was too busy to talk to Waldo. "I know!" said Waldo to himself. "I'll tell the reindeer! I'll bet they'll listen!"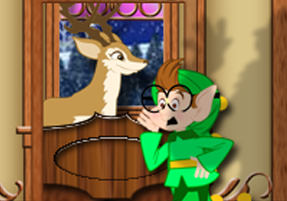 "Hey Comet! Guess what?" Shouted Waldo as he burst into the reindeer stables. "Gizmo Elf has a big surprise for Santa!" "Ho ho ho! And what might that surprise be?"
Waldo scratched his head. "Comet! When did you start talking like Santa?"
Just then Santa walked out from a dark corner of Comet's stall. "He doesn't talk like that!" he said, "I do! Now why don't you tell me about this surprise?"
Will Waldo tell Santa the secret? And will he make Santa promise not to tell himself? Keep reading The North Pole Times to find out!