Santa Claus buckled up his cross-country skis, then hefted his backpack. A group of nervous Elves--and a very nervous Mrs. Claus--all watched him get ready. Two reindeer--Ajax and Scooby-- were missing from the stables, and it looks like an Abominable Snowman (better known as a Yeti) was the culprit. Santa had made the decision to go and hunt for the two reindeer on foot.. Going along with Santa was Holly Elf--the Chief Santa Spotter. She had the sharpest eyes of all of the elves, and Santa was counting on her to help in rescuing the reindeer.
"Are you sure you should do this?" Mrs Claus asked. "It's awfully close to Christmas."
Don't worry," said Santa, "we'll be fine. We're more than a fortnight away from Christmas Eve, I've got a backpack full of hot cocoa and cookies, plus some rutabagas and pistachios for the reindeer. Plus, I've got my new Wow-Wee-Whooper-Doo Mark II laptop with me, so I'll be able to keep in touch with you, and alert you to any trouble--of which there won't be. And don't forget, I'm also taking Holly with me. She's very sharp-eyed, and she's an Elf, so she'll have no trouble in the snow, right, Holly?"
Just then, there was a crash, and the Elves all turned to see Holly, who had one ski caught in her backpack, and the other on backwards, slip and land head-first in a snowbank.
"Mmm nn smm, Snnnmn" came out of the snowbank.
Santa reached in and pulled the little elf out. "What was that you said?" he asked.
"I said, I'm all set, Santa!" said Holly, who promptly crashed into a different snowbank.
Santa sighed. "Gizmo, how long will it take you to invent a pair of 'never fall' skis?"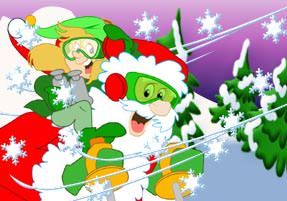 "I'm halfway done already, Santa!" said his Chief Inventing Elf, running into his workshop, and in three minutes longer than half the time you would think it should have taken, Santa and Holly were skiing off into the wilds to hunt down the missing reindeer.
"Ho ho ho! Be back before you know!" called Santa as he sped out through the trees, followed shortly by a crash, an "Oof" and an "I'm all right!" from Holly," and ending with Santa's voice saying, "try steering between the trees, honey."
Will Santa find the Reindeer before Christmas Eve? Will we discover who took them in the first place? And will Holly learn that it's never wise to try and ski through a tree? Keep reading The North Pole Times to find out!