Waldo looked desperately around. Everyone blamed him for the mess.
It started with a friend request from a lovely elf. It was tempting, but Waldo made a good decision. He decided not to accept the request from a stranger. But still, the virus went off! "What launched the virus?" you must be wondering.
Dear readers, the story that follows is hard to believe.
When the mess started, poor Waldo looked at the screen and read, "Alert: Pudding on the keyboard!"
Oh, no! As he was eating his favorite strawberry and mustard pudding, Waldo dropped a bit on the keyboard. The pudding fell directly onto the "accept" button. It was Waldo's pudding that launched the virus and caused the mess throughout the entire North Pole.
Believe it or not, dear readers, that's what happened.
Waldo was smart enough to do the right thing and clumsy enough to accidentally cause the greatest mess in the history of the North Pole. (Well, that's Waldo for ya.)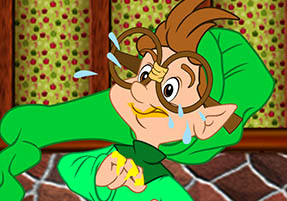 With dozens of angry faces around him, Waldo felt even worse. He had to do something; but what?
Still licking the rest of the pudding from his lips, Waldo had an idea!
He'll find the cute elf girl who sent him the friend request! He would make her give him the secret antivirus code!
Waldo had no idea where to find the mysterious elf, but he had to start right away. It was a detective job, so his trusty Sherlock Junior Kit seemed a useful thing to bring along.
And so, dear Waldo set off to the icy wilderness. He didn't ask or expect anyone to join him… not that anyone would anyway.
What do you think will happen? Will the elves let Waldo go all alone? Will anyone join him on this mysterious quest?
Come back TOMORROW to get the latest news about Waldo's mission. Right here on The North Pole Times!