There are many strange things to be seen in the middle of a forest. Unusual birds, strange bugs, uncommon animals are all to be found there. But one of the strangest things ever seen in the middle of a forest was just about to happen: Santa Claus, Holly Elf, and a dancing yeti were about to read an email from Waldo Elf!
Santa sat on a rock and opened his laptop computer. Holly and the Yeti looked over his shoulder.
"I not like email, usually," said the Yeti. "I can't deliver it. But I let you read this one."
Santa adjusted the screen, cleared his voice, and began to read.
Dear Santa;
Hello! How are you? I am fine, thank you. Except that I'm hungry. I ran out of strawberry-and-mustard pudding a few days ago. Also, I'm tired. I've been unvisible* for a long time now, and boy! Is it tiring! Other than that, I am doing very well. Where I'm hiding right now there is a computer, so I thought I would write you a letter to tell you how I'm doing. I am fine, thank you. Except that I'm hungry...
"Does he ever get to the point?" asked Holly.
"He very polite," said the Yeti. "And very hungry too, it seems."
"Ho, ho ho! That's just the way he writes," said Santa.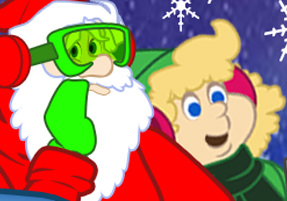 They continued reading the email: You have probably found out by now that Dolores Flemspackle is using the reindeer she kidnapped to make her airlpanes fly. She wants to use Ajax to fly one airplane, and Scooby to fly another. But Scooby can't fly right now, because she's going to have a little baby reindeer fawn soon. But when their little baby reindeer fawn is born, I think Mrs. Flemspackle will want the baby to fly an airplane too! I think this is a waste of perfectly good reindeer magic but what do I know. Oh--I know this: Phil Flemspackle, Dolores' son, doesn't like the idea any more than I do.
I am thinking about going to talk to him. I think he might want to let the reindeer go, if I ask him please. Also he might have strawberries.
Santa, do you think this is a good idea? I won't do anything until I hear from you. Except breathe. I'll breathe. And blink my eyes, too. I'll do that. But the other stuff? I won't do any of that.
Your Friend,
Waldo Elf
ps: do you think you could get me some more strawberries?
Holly wrung her hands. "Oh sleighbells! Of all the people to be with those reindeer, it had to be Waldo! He'll get caught, for sure! And then everyone will know about the reindeer, and we'll never get them back."
Santa sat and thought for a minute, stroking his long, white beard.
"Holly," he said at last, "You may be the smartest Elf around."
What is Santa thinking? Is Holly really that smart? If she IS that smart, can she do trigonometry? You won't find the answer to that question, but you may find other answers, if you keep reading The North Pole Times!
*There's a difference between invisible and unvisible. If something is invisible, it means it can't be seen. If something is unvisible, it can be seen, but no one looks at it. Elves are very good at being unvisible.-ed.