Waldo, Mikee, and Gizmo were trembling in fear. As you remember, dear readers, they went to find the mysterious new elf. However, they ended up in front of two giant eyes peering down at them from way up in the sky through the thick heavy snowfall. The eyes, big as dinner plates and as black as night, seemed to come from a creature unlike any other known to mankind.
Just when they thought things couldn't get any worse, they noticed two more eyes in the darkness scurrying straight at them in a very determined fashion.
"My dearest elves," they heard in a thundering voice.
Dear readers, you won't believe it! It's Yeti!
Yeti and her baby saw the elves in trouble and came to help.
After hearing all about the great mess and the mysterious elf, Yeti wanted to help but didn't know anything about the new elf girl who showed up on Waldo's computer.
"I know who might help! Find the polar bear!" Yeti suggested. "He knows every corner of the North Pole, but use caution. He can be a little grumpy at times."
And there it is, dear readers! The first clue!
However, Yeti warned the elves of one more thing. "The polar bear can't stand noise, especially while he's asleep. He can get really mad and has been known to swat at anyone waking him. Be careful."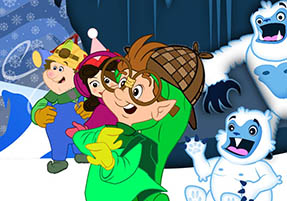 "Don't worry! I'll be quiet as a mouse!" Waldo said confidently.
Everyone wanted to believe that, but they knew Waldo all too well.
It was baby's nap time, so Yeti took her back to the cave as Waldo, Mikee, and Gizmo moved on to find the polar bear.
They quietly walked on their tiptoes to avoid making any noise. After a while, Waldo climbed up onto what he thought to be a hill in order to get a better view.
"Oh, this snow is so warm and soft, like a cozy blanket. Uh-oh, it's moving! Aaaaaah! The hill is moving! Aaaaah!" poor Waldo screamed to the top of his lungs.
Well, dear readers, I have good news and bad news. The good news is, Waldo found the polar bear. The bad news is, Waldo found the polar bear… and WOKE him!
As you remember, the polar bear doesn't like that very much; not much at all in fact. Uh-oh!
What do you think, dear readers? Will the polar bear get mad and take a swat at Waldo with his huge powerful claws? Will the elves get a new clue about the new mysterious elf?
We're back tomorrow with another update; right here on the North Pole Times.
#1 in Santa's News! Trusted Worldwide!