Dear Readers,
I've been thinking of a nice way to say this, but I can't find it. Here at the North Pole, things are not good at all.
Thanksgiving Day turned into chaos.
I'm writing this by the light of Rudolph's nose. The lights are off thoughout the entire North Pole!
And it's only a tiny part of a HUGE problem. The North Pole was hacked!
I'll try to tell you what is happening. Imagine the worst day you've ever had. Well, it's ten times worse! No, 15 times!
Mrs. Claus' kitchen is in shambles!
The oven froze the Thanksgiving turkey, and the freezer baked the ice cream. What a mess! The stove chilled the gravy while the fridge warmed the eggnog.
The elves are all running around in a panic.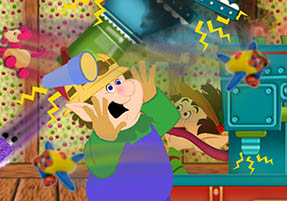 The great toy-making machine of the North Pole--the Appendapulator--is making the wrong toys! Dolls are being made as teddy bears, game consoles as tablets! It's a mess! Santa's sleigh is out of control! Gizmo is trying to fix it, but it's not working.
All the reindeer are confused. Their barn was locked! Luckily, they were outside when it happened. I think they'll need another place to sleep.
As things seem now, we have no idea how, or if, this will affect Christmas.
We don't know who did this. The eves have no clue why anyone would do such a thing.
The only thing I can tell you is how it all started.
I'm sorry, but we'll need to continue tomorrow. Dear Rudolph got tried. His nose is blinking.
I hope to have better news soon.
Stop back tomorrow for updates on this developing story. ONLY on the North Pole Times.
#1 in Santa's News! Trusted Worldwide!