As you know, dear readers, Santa's village is a complete mess. The workshop is full of wrong toys, and Santa's sleigh is out of control. The elves and the reindeer are in a panic. The North Pole was hacked, and we don't know why.
But let's start from the beginning. Here's what happened:
Yesterday was a normal Thanksgiving Day here at the North Pole. Mrs. Claus was preparing Thanksgiving dinner in the kitchen, and the elves were busy at the workshop. The Christmas spirit was alive and well.
Then our Waldo Elf needed a pudding break. As he was enjoying his favorite strawberry and mustard pudding, Waldo checked his account on the Elf Social Network.
"Oh, a new friend request!"
Waldo couldn't wait to check it! The truth is that he doesn't get friend requests quite often. (Well, between us, he hardly ever gets them.)
"She is sweeter than pudding," Waldo thought, looking at a cute elf girl. "Should I accept it? I don't know her. Does she know me? She is pretty, but maybe I shouldn't. Or should I?"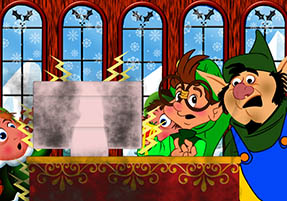 Suddenly, an elf standing behind Waldo's back screamed, "NOOOOOOOOOO!"
It was too late. The virus was launched!
Poor Waldo didn't know what happened. The lights went off, the toy-making machine - the Appendapulator - started making the wrong toys, and the whole village was in a mess!
"Waldo messes up… Again!" the elves screamed.
"But I… I didn't… It wasn't my fault," poor Waldo tried to explain.
What do you think happened? Did Waldo make a bad decision? Did he accept the friend request from a new cute elf? Who or what launched the virus and hacked the North Pole?
Be sure to stop back tomorrow for continuing updates on this troubling story, ONLY on the North Pole Times.
#1 in Santa's news! Trusted worldwide!