Santa carefully folded the letter from Dolores Flemspackle (to read it for yourself, read yesterday's story-ed.) and put it in the inside pocket of his jacket. He turned to the giant Yeti who had given him the letter. "Where's Mrs. Flemspackle now?"
"She left, but said she'd be back to visit me on February 30th," said the creature. "She went away in one of those big flyin' things...a happytopper!"
"Happytopper?" asked Santa. "Oh--a helicopter! Hmmm. I doubt even with your great eyesight, we'll be able to track them now, Holly."
"What's Dolores Flemspackle going to do with those reindeer, Santa?" asked Holly Elf.
"I'm sure we'll find out soon enough," Santa replied. "I just hope we can get to her soon. With Scooby being pregnant, I think we need to find them, and soon. Do you have any way of getting in touch with the Santa Spotters?"
Holly's sharp eyes twinkled even brighter. "I'll bet we can get them back together again, and maybe a few new ones, too!" she said.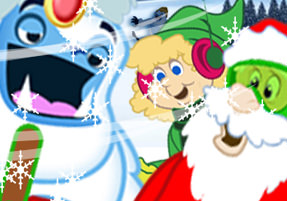 Santa Spotters, for those who don't know, are boys and girls who are able to see things others can't. In past years, Santa Spotters were used to help keep track of Santa as he went around on Christmas Eve delivering presents, and sometimes, when Santa had to come into the world before Christmas Eve, to make sure everything was going ok.
"I'm sure that any boy or girl who could spot Santa could also spot a lady who looks like a yeti--especially if she's with two flying reindeer!" said Holly proudly.
"That might just work," said Santa. Use my laptop computer and send The North Pole Times a note to put in the paper. And remind them that they might see signs of strawberries and mustard, too!"
Holly looked puzzled. "Strawberries and mustard? Oh! I forgot that Waldo was with them, too! He's the only Elf I know of who likes that combination!"
"Which reminds me," said Santa, turning to the Yeti yet again. "Do you have anything else for me?"
The snow creature looked puzzled for a moment. "Oop! Almost forgot! Here it is--'nother letter!" And he reached out a massive paw and dropped a wrinkled piece of paper into Santa's outstretched hand.
What is on the paper? Is Waldo with the reindeer? Will the Santa Spotters come to the rescue? Keep reading The North Pole Times to find out!