The elves were still in front of the giant castle gate, and the gate was still closed. As you recall, dear readers, Waldo, Mikee, and Gizmo reached the castle of the meanie whose friend request launched the virus and caused the mess at the entire North Pole.
They tried to open the gate with no success. Then Gizmo came up with a plan. They might need a password in the old elvish language – Sindarin. However, it's an old language that no one speaks any longer.
Dear readers, you do know that our dear Gizmo is a great inventor, right? Well, now you are about to see just how GREAT he is!
"I'll grab the ELF!" Gizmo announced confidently.
"Me or Mikee?" responded Waldo.
"Not you. The ELF!" Gizmo shouted.
Gizmo had invented a gadget to properly format every language in the world, including Sindarin! It is called the Elvish Language Formatter or E.L.F. for short!
The ELF helps Santa format the letters he sends all over the world. It has never been used as a translator though, but now was a good time to give it a try!
After removing the back of the gadget, Gizmo begins to tinker with it.
"Let's see. If I just cross-connect the wire from the who-ja-ba to the whatcha-callit and then bridge it to the flex-transistor…"
Bzzzzzt!
"BINGO!" Gizmo hooted. "We've got translation!"
Gizmo took the ELF and translated the word open. It said, "Edr!"
The three looked up at the giant castle gate, and then… Nothing!
"Try with: Open the castle gate!" Mikee suggested.
Gizmo translated again, "Edr I cardhon fen!" Still, nothing happened.
As Gizmo was checking the ELF, Waldo saw a shadow beyond the gate. It was a dark and sinister shadow that seemed to stretch the entire length of the castle grounds. It was moving slowly towards them between the frozen bushes, growing larger and larger, casting an eerie darkness wherever it fell.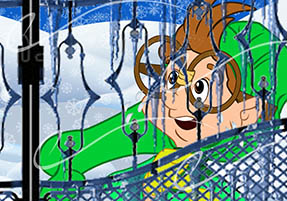 "Oh Boogerwig! What's that?" Waldo cussed.
CLICK!
Dear readers, you won't believe it! The gate opened! Waldo's cuss word just happened to be the password that opened the giant gate!
But the elves didn't celebrate. They were too terrified of the spooky shadow the creature was casting as it came closer…and closer. Uh-oh.
Who or WHAT was the creature the elves saw?
We're back tomorrow with another update; right here on the North Pole Times.
#1 in Santa's news! Trusted worldwide!