Running away from Yeti, Mikee fell into a deep crevasse. Since the QuantaCom Encryption Watch had no signal down there, Mikee couldn't call Rudolph for help. Fortunately, Mikee grabbed a piece of ice, which helped her not fall any deeper. However, she heard a voice coming from the depth of the crevasse and saw something or somebody.
Mikee looked closer. She saw a Yeti, but a very little one. It was the missing baby Yeti! The poor baby had fallen into the crevasse!
Mummy Yeti didn't spot Mikee running nor falling into the crevasse. The poor mummy passed by the crevasse, unaware of her baby lying on the bottom.
Still hanging on a piece of ice, Mikee didn't know what to do. She was afraid of Yeti, but this one seemed like a baby. Mikee couldn't call Rudolph for help nor climb to the top. Even if she had found a way to climb up, Mikee couldn't have left the helpless baby Yeti on the bottom.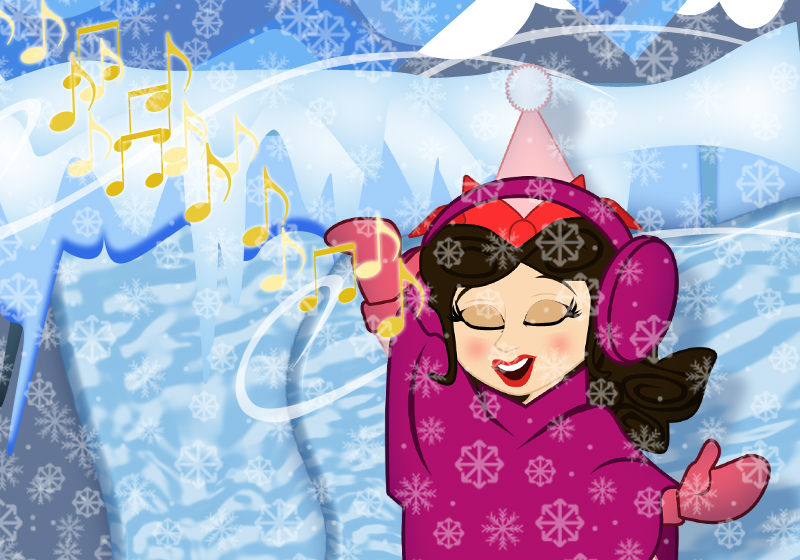 While baby Yeti was crying quietly on the bottom of the deep crevasse, Mikee did the only thing she could think of at the moment; she started singing a lullaby. As soon as she heard Mikee's beautiful voice, baby Yeti stopped crying. Unable to do anything else, Mikee kept singing. At least she could calm the baby down until she thought of a plan to save them both.
However, baby Yeti wasn't the only one enjoying Mikee's beautiful voice. Somewhere in the wilderness, somebody else heard the familiar sweet voice.
What do you think? Who heard Mikee's singing the lullaby to baby Yeti? Read all about it tomorrow ONLY on the North Pole Times where we'll keep you updated on this interesting story.